QPR manager Harry Redknapp upbeat over their chances of Premier League survival
QPR manager Harry Redknapp remains confident they can avoid relegation from the Premier League.
Last Updated: 22/02/13 11:33am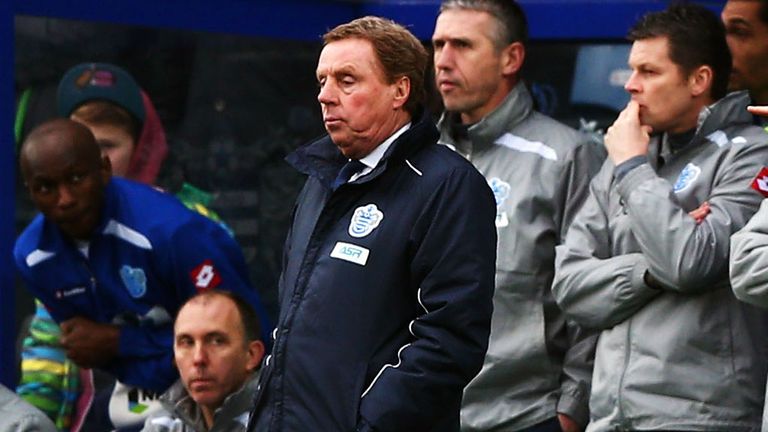 The R's welcome league leaders Manchester United to Loftus Road on Saturday, with Redknapp likely to have striker Loic Remy at his disposal following a groin injury.
"We need to close the gap. We need 20 points at least. Whether that would be enough I don't know but we have to try for that," Redknapp said when asked about his side's chances of survival.
"Of course I feel we can do it. If I stop believing everyone does. I still think it is possible with 12 games to go and lots of points to play for. Six points can turn everything around so quickly."
As for opponents United, Redknapp concedes QPR face a tough challenge if they are to halt Sir Alex Ferguson's side, who have won five of their last six matches in all competitions.
"They don't take their eye off the ball too often. They are looking to win the league and they will worry about Real Madrid 10 days after us," he added.
"It is a big game. We had been on a good run. Last week (a 4-1 defeat to Swansea on 9 February) was the first setback after five games unbeaten.
"They have kept winning and other teams have had bad runs. They have been the only team playing with consistency so it has left them in a great position.
"I'd be very surprised if they don't win the league from where they are."
As well as confirming Remy may return against United, Redknapp also revealed fellow striker Bobby Zamora may be nursed through until the end of the season before undergoing surgery on a hip problem.
"We have a pretty fit squad. Remy has trained the last couple of days and looks OK," he said.
"We will have to see how he is and whether he can play. He trained yesterday. It is difficult with groins. We don't want to risk him.
"Bobby might need an operation at the end of the year but the aim is to keep him going for the next 12 games.
"We are hoping we can get more than half a game from him but we will see how we go."