Sunderland boss Martin O'Neill hails keeper Simon Mignolet's work ethic
Martin O'Neill has likened Sunderland goalkeeper Simon Mignolet to two of the all-time great stoppers.
By Tim Oscroft
Last Updated: 23/02/13 12:20pm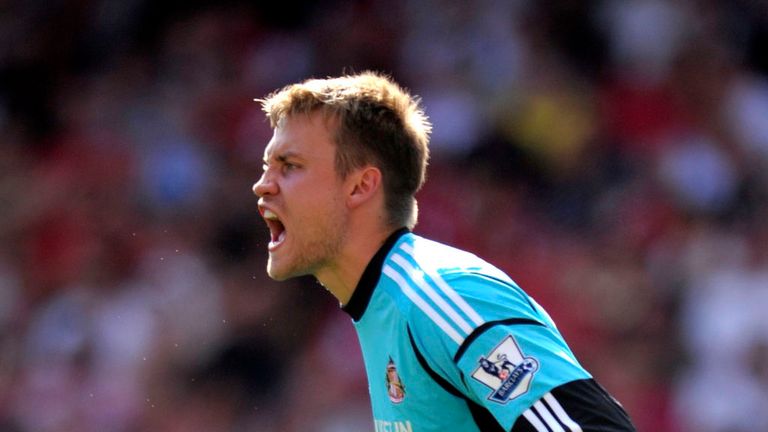 The Black Cats boss says that the Belgian shows similar traits to Peter Shilton and Pat Jennings, who O'Neill saw at close quarters for Nottingham Forest and Northern Ireland.
Mignolet has established himself as Sunderland's first-choice keeper, and his manager feels that hard work has been key to the 24-year-old's success.
"He comes in every morning and wants to do it, to work hard and improve," says O'Neill.
"I've been lucky in my career to have played in front of two unbelievable keepers in Pat Jennings and Peter Shilton and he's got a similar approach to both.
"Peter Shilton and Jennings played at a time without any goalkeeping coaches, so what Shilton would do was get some of the apprentices down to fire in shots at all angles so he could do his work.
"At international level, when Jennings felt he had a point to prove, he was unbeatable and I feel that Mignolet has this.
"He's still very young and he's got a similar mentality to those two, if he ends up having half the career of those two I'll be ecstatic. He's an intelligent lad without being a smart Alec."
Mignolet's form is said to have drawn interest from Arsenal, but the player himself has shrugged off the speculation.
"All those clubs who I am linked with, if I make a mistake on Saturday, will be un-linked straight away," Mignolet asserts. "It will be the exact opposite and that's why I don't really get fussed about it at all.
"It goes in one ear and out of the other. That's what you are going to get as a footballer. Sometimes you are a hero and sometimes you are in the eye of a storm, so I know that things can change really quickly."