Everton's David Moyes tells Marouane Fellaini to copy Lionel Messi
Everton boss David Moyes has told midfielder Marouane Fellaini to be more like Lionel Messi in dealing with opponents.
Last Updated: 26/02/13 7:06pm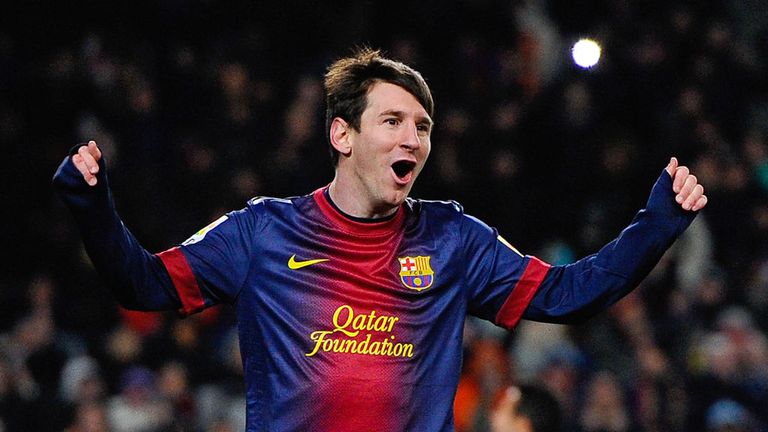 Belgian midfielder Fellaini was left with a bleeding knee on Saturday after a tackle by Norwich's Bradley Johnson, with no action being taken by referee Lee Mason.
An unhappy Fellaini, handed a three-game ban earlier this season for headbutting Stoke's Ryan Shawcross, took retribution by barging Johnson over, which resulted in a free-kick and a stern communication from the referee.
Moyes believes his 25-year-old is singled out for particular treatment by opposing teams and thinks officials could do more to protect him.
But it is the behaviour of Barcelona superstar Messi that has attracted interest from Moyes and the Scot said: "Everybody wants to kick Messi because it is the only way to stop him, but all he ever does is sort of smile, get up and get on with it, and then does it again.
"So I have told Fellaini he has to copy that. I don't think he'll ever be as good as that, but certainly in his temperament, he should try to be similar to Lionel Messi, who looks as if he just gets on and accepts that people have to try to stop him some way.
"You trust officials and expect them to go about their job the same for everybody. But if you look at Fellaini, you know he has to take as many challenges as anybody.
"He will give as many out, but I don't think he gets protected as well as what there is when he is challenging somebody. It is frustrating, but I've got to say he has got good at it."
Moyes was speaking ahead of Tuesday's FA Cup fifth-round replay against League One Oldham at Goodison Park, where his team will be looking to contain the threat of 6ft 6in striker Matt Smith.
Smith netted a dramatic stoppage-time equaliser for the Latics to ensure the original tie finished 2-2, having scored twice in the previous round as Liverpool suffered a shock 3-2 defeat at Boundary Park.
Moyes, whose side are sixth in the Premier League, feels the frontman may provide the Toffees defence with a test quite different to those they are used to facing in the top flight.
"That type of centre-forward was probably more prevalent in my day - we had one of them every week," Moyes added.
"I think it is less and less so the case now in the Premier League, so that is what makes it a little bit more unusual. I don't think there are quite as many teams using a big man the way Oldham do.
"But it is part of football and there is no right or wrong way to play. The job is to win, and whatever way you choose to do it, as long as it is within the rules, that is okay."
The winners of the cup clash will face Wigan at home in the quarter-finals.