Arsene Wenger predicts more to come from Arsenal new boy Nacho Monreal
Arsene Wenger expects newly-signed left-back Nacho Monreal to become an attacking force for Arsenal.
Last Updated: 27/02/13 3:57pm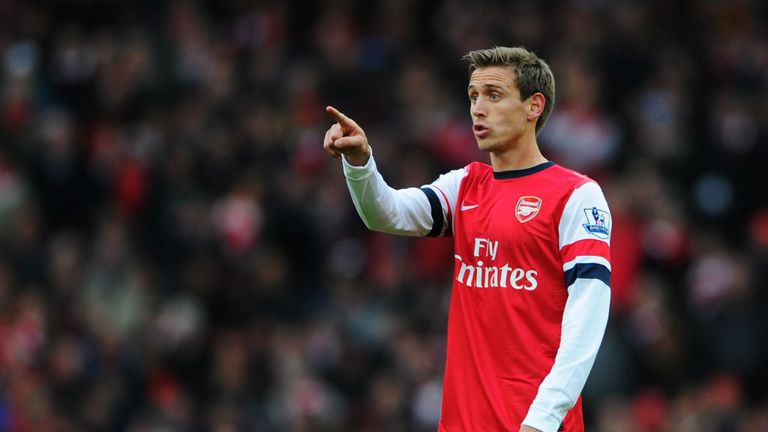 The Spain international, bought from Malaga in January, helped his new side to clean sheets against Stoke and Sunderland in his first two games.
And there was a glimpse of Monreal's potential going forward when he set up Santi Cazorla's winner against Aston Villa at the weekend.
Wenger said: "The first thing you want from your defenders is to defend well, so we cannot reproach him for that. You will see the other aspects of his game more when his confidence has settled.
"Monreal is good in the air for a guy of his size, has a quick leap and has looked good. He is very strong in other areas too, his crosses for example, and his forward play you will see a bit later.
"It happened with Kieran Gibbs too, the more confident he became the more efficient he was going forward. It can take a bit of time to express that side.
"There is no better culture shock than to play against Stoke and Sunderland.
"He has not said a word to me about it, but he has spoken with the other players and he has seen all about the passion and commitment of the English game. You can say Nacho Monreal passed that test."
Relieved
Gibbs has been sidelined with a thigh injury picked up in the 2-2 draw against Liverpool on January 30 - which gave Arsenal little time to hasten a move for Monreal.
Wenger had been on the Spaniard's case "for a long time", and was happy to have landed "one of our big targets".
The Arsenal manager admits the January window was a testing period for the club, who came under criticism for not spending big despite obvious shortcomings on the pitch.
"We had a difficult first six months of the season, because we were trying to extend the contracts of all the British players. That demanded a lot of work and then we had to deal with the (Theo) Walcott situation as well during January," Wenger said.
"So personally I am relieved because we dealt with the situation and we extended all of our players (contracts), kept Walcott and bought Monreal, of course you can always do better but overall I feel the club has dealt with the situation we faced in a satisfactory way."