John Hollins says Rafa Benitez may be fired by Chelsea before end of week
Chelsea legend John Hollins thinks interim manager Rafa Benitez may lose his job before the week is out.
Last Updated: 28/02/13 7:07pm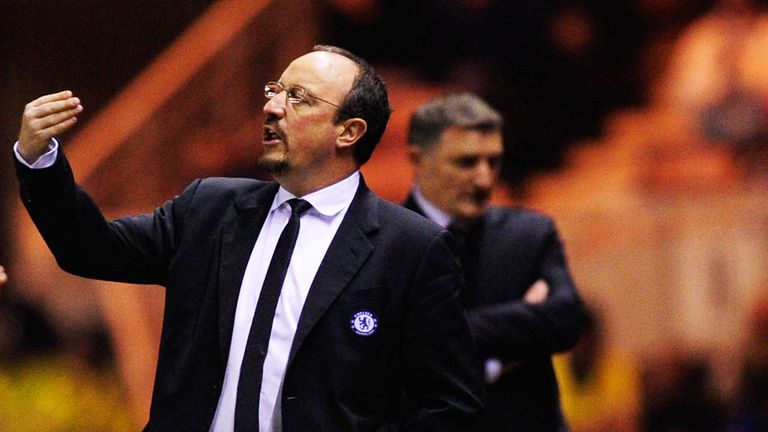 The Blues won 2-0 at the Riverside Stadium to reach the quarter-finals of the FA Cup but, after the match, Benitez hit out at the executives who decided he would be an 'interim' boss and the supporters who have failed to give him their backing.
Some Chelsea fans have refused to forgive Benitez for his former association with Liverpool, who reached the 2005 Champions League final after a contentious semi-final against the London side, and the fact he replaced the hugely popular Roberto Di Matteo at the helm has not helped his cause.
Following the win at Boro, Benitez said, at length, that he thought the board were wrong to label him the 'interim' boss and that the attitude of the supporters was damaging the club.
But Hollins, a beloved figure at Chelsea during his days as a midfielder at Stamford Bridge, before a less successful stint as a manager, thinks Benitez will pay for his comments with his job, although the club insisted it was 'business as usual' on Thursday.
"It was two rants really," said Hollins. "Both not very sensible. One against the board, 'I'm not an interim manager, I'm a manager, and this that and the other'.
"Well, we know you're an interim manager and you're doing the job! That's why you said you'd take it to the end of the season.
"You certainly don't criticise the board, perhaps he should have kept it private."
As for the criticism of the supporters, Hollins added: "They've taken 2-3,000 fans to Middlesbrough on a very cold night.
"He's saying 'you support the team' but they are allowed to say they don't like the manager. Nobody liked me when I was manager of Chelsea too much!
"They used to say 'get rid of him, he's rubbish', but you take it. You don't go back at the supporters with 'what do they know about it'.
"If that is his attitude to the board and the supporters, I don't think he will last very long, maybe the end of the week."