Premier League managers have sympathy for Rafa Benitez's plight at Chelsea
Premier League managers have given their reaction to Rafa Benitez's outspoken attack against Chelsea and the club's fans
Last Updated: 28/02/13 4:48pm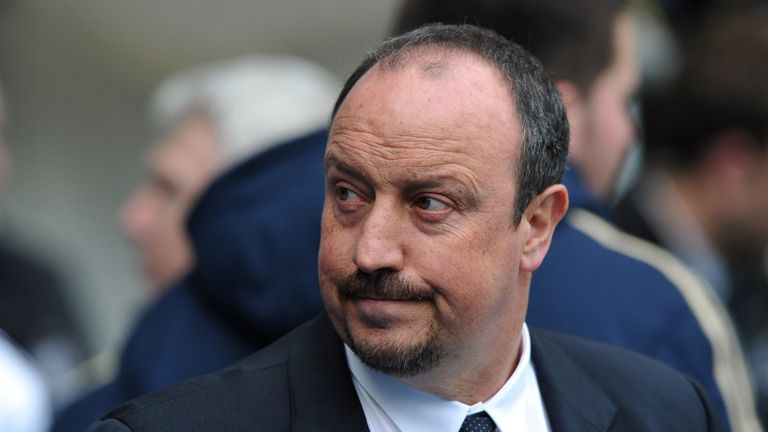 Benitez launched a broadside following his side's 2-0 win at Middlesbrough in the FA Cup fifth round on Wednesday, criticising fans for protesting against him and questioning why the club named him as interim manager.
His outburst sparked speculation that his position was in immediate danger and a lot of his Premier League counterparts have sympathy for the position Benitez finds himself in.
Newcastle boss Alan Pardew feels the 'interim' title did not help anybody concerned.
"The title probably didn't do him any favours," Pardew said. "It probably didn't help Chelsea, and perhaps even upstairs, they might regret that title, if you want to call it that.
"He's a great manager; they are a great club. They will sort it out."
Reading boss Brian McDermott understands Benitez's frustration at being given the 'interim' title, having experienced a similar situation himself.
He said: "That is the title that the job was given. When I got the job here in the first place I was caretaker manager. It was called caretaker then until I got the job as the manager. That is kind of how it is.
"The title was 'interim manager' and I understand that that title doesn't look to be a permanent title, I would suggest, so I can see from Rafa's point of view that wouldn't be the title he would have wanted."
Regarding the constant jeering Benitez has had to endure during his Stamford Bridge reign, McDermott added: "It isn't pleasant but that is how it is. That is football, and fans want to see teams that are winning."
Fulham manager Martin Jol also had sympathy for Benitez, saying :"I feel for any manager who is not well-liked and he wasn't well-liked from the start so I feel for him.
"He is a professional so he will probably do his job until the end of the season."
Liverpool boss Brendan Rodgers had some empathy with Benitez's situation but was thankful he had such a supportive backing at Anfield.
"He has obviously been understanding of the situation he has gone into - and only he and the football club know," the Reds boss said.
"From a manager's perspective, you never like to see it. Steve Kean last season went through a horrendous time (at Blackburn) but showed great dignity.
"You have empathy as a manager, but you know the game you are in.
"It's certainly better if they (the fans) are with you - you want the supporters to support the team.
"I can only talk about Liverpool and the phenomenal support the players get.
"I have come in here and been afforded great support. The board have been brilliant. The supporters have been patient and brilliant."
Swansea chief Michael Laudrup highlighted the relationship between Benitez and Chelsea fans as the sole reason for the jeering.
"I think it has absolutely nothing to do with the results," he said.
"When people are booing at the stadium even when the team are winning, it is clearly not about results.
"It is something to do with emotions and feelings, which are an important part of football, but the relationship there (between Benitez and the fans) has nothing to do with results."
Wigan manager Roberto Martinez, who enjoys a good relationship with fans at the DW Stadium, was refusing coy on the situation faced by his fellow Spaniard Benitez at Stamford Bridge.
"I didn't see it last night but as a manager you are working 100 per cent every day to try to affect the things you can affect," noted Martinez.
"Obviously there are many issues you can't affect and you can't do much about it. As a manager that can make your job a little bit harder.
"But it is difficult to comment from my point of view. When you are involved in our situation, I don't think there is too much time to look elsewhere. I can't really comment."
West Ham assistant boss Neil McDonald can understand why Benitez should become antagonised, but he also believes supporters of any club have the right to air their grievances.
McDonald said: "He's obviously frustrated, I suppose, in a way. You have to deal with that, don't you? It's always difficult coming into a football club not being the 'manager'.
"He hasn't had the results he probably wanted but at the same time he's trying to do his best. That's all you can do as a manager.
"Sympathy... we're all in the same situation. If we don't get the results we're under pressure and if the team's not playing as well as what it has done in the past, then the crowd have got every right to voice their opinions and
that's what he's had to deal with at the moment."
Stoke boss Tony Pulis said he was "very privileged" to have the relationship he has with his chairman, acknowledging in the wake of Benitez's outburst that not all managers are lucky enough to have such strong boardroom backing.
"What goes on at Chelsea goes on at Chelsea - I can't control that," said Pulis. "In terms of what Rafa is going through, the best person to talk to is Rafa.
"Every manager has a different relationship with chairmen. I have had different relationships with other chairmen at other football clubs to what I have got with Peter (Coates).
"I'm very privileged to have the (Coates) family here, who are absolutely fantastic people. If I want to see them, I pop down the road and it is five minutes if I jump in my car. The door is always open for me to go and see them.
"Ask Rafa what his relationship is like with Abramovich or the people in power there. He is the only one who can answer that - and from that stems everything."