Southampton manager Mauricio Pochettino refuses to set safety target
Southampton boss Mauricio Pochettino has refused to set a points target for safety in the Premier League this season.
Last Updated: 28/02/13 7:12pm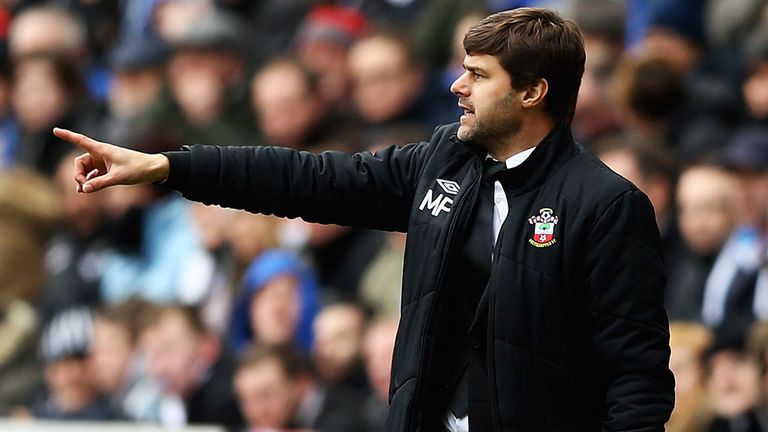 Saints face QPR at St Mary's Stadium on Saturday, with R's manager Harry Redknapp convinced 37 points will be enough for clubs to secure Premier League survival.
But Pochettino is taking a more cautious approach to the matter, insisting his side must simply try to take points from every game they play.
"We haven't set ourselves a certain amount of points," he said.
"We have just set out to win every single match and then at the end of the season we will look at how far close we came to achieving the ambitions we have."
Pochettino is happy with how he and his coaching staff have been welcomed to the club, despite his arrival signifying the end of the popular Nigel Adkins' tenure at the club.
"We spend from 7am to 8pm at the training ground so we don't get to see much of the city, but it is true that we experience football in a much more intense way here," he added.
"We are very aware of the passion of the English fans and of those in the Premier League.
"I think every game we have played at St Mary's we have felt that warmth and kindness from the fans.
"So far so good, we have just experienced good things so far."
Redknapp returns to the club he left to rejoin bitter rivals Portsmouth, having failed to keep Southampton in the Premier League in the 2004/05 season
But Pochettino was keen to focus on the game itself rather than the club's history with Redknapp.
"I do know the past of Southampton, but I do not know every single detail of what happened," he added.
"I am always interested in football matters so I have become interested in this matter as well.
"But I think my main goal is always to generate a positive atmosphere for my team and always respect what the people say.
"I will thoroughly respect whatever they want to say on Saturday, but I think what is truly important is that they get behind the team and push us to try and get the three points as best as we can."