Man City's Pablo Zabaleta says defending Premier League title has been tough
Pablo Zabaleta accepts that Manchester City have come up short in the defence of their Premier League title.
By Tim Oscroft
Last Updated: 04/03/13 11:47pm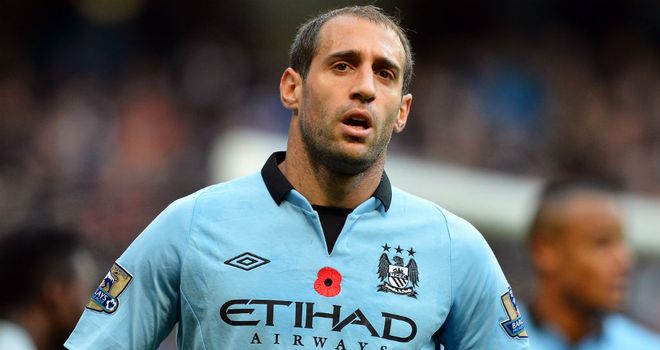 The dependable Argentinean has been one of City's more consistent performers in a campaign that currently sees them 12 points adrift of Manchester United with 11 games remaining.
Blues manager Roberto Mancini regularly shuffles his options elsewhere in his side, but Zabaleta has made the right-back berth his own in the absence of the injured Micah Richards and has captained the side when Vincent Kompany has been forced to the sidelines.
Players of the calibre of Carlos Tevez, Samir Nasri and Joleon Lescott have all spent time watching on from the bench, something Zabaleta says his team-mates must deal with.
"With 25 players it isn't easy for the manager to work and keep everybody happy," declared the 28-year-old.
"Sometimes if a player has been dropped for a game because Mancini wants to make a change, it's difficult for them, they go down, because they want to play. That happens in all teams."
Such are the changes at City that at four-and-a-half years Zabaleta is one of the longest-serving squad members, but he feels that the side should have raised their game in the wake of their title triumph.
"We are a team [built] over the last four years; it's not really easy for a team to build up the mentality to try to keep winning every year, like top teams around Europe.
"Probably this year we needed to show we wanted to retain the title and it's been very difficult. So we know that we need to do something more, give something more, try to do better, to create that strong mentality that we need."
Stronger
While City retain slim hopes of hanging on to their league title, they can only look on in envy as their cross-town rivals prepare for a mouth-watering Champions League clash with Real Madrid.
City's tenure in Europe's elite competition this season ended at the group stage, which included a last-minute defeat to Jose Mourinho's side.
Madrid will train for Tuesday's match at City's Etihad Stadium a day earlier, and Zabaleta is keenly aware of how City need to improve to make their presence felt on the continent.
"We know we have great, fantastic players but probably we have to be stronger as a group to be one of the top teams in Europe."