International Women's Day: Female professional manager within a decade predicts Heather Rabbatts
FA director Heather Rabbatts believes there could be a female manager at a professional football club within a decade.
Last Updated: 11/03/13 11:04am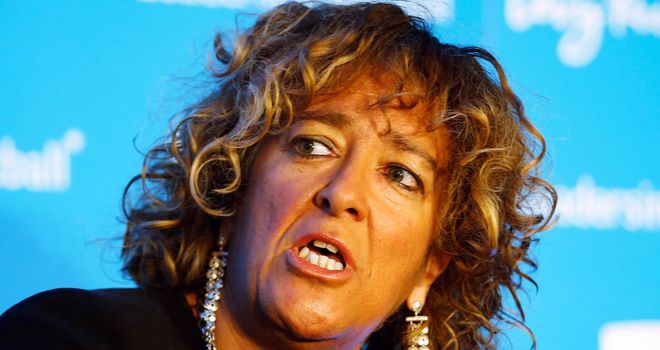 Rabbatts thinks there is a need for more women at all levels of the game and attitudes are changing.
Speaking to Sky Sports on International Women's Day, she said: "I think within a decade we will start to see some women appearing on the touchlines.
"I would like to see more chief executives as women and more of the team doctors as women. We live in an age when over 50 per cent of medical students are women so I think it is about a commitment to the whole game in terms of representation. Whether that's from the coaching and the development side to the running of organisations."
Cherie Lunghi played Britain's first female professional manager in the TV drama The Manageress but more than 20 years on no-one has made the role a reality.
However coach and former England international Marieanne Spacey says attitudes have changed.
She said: "When it came out there was a real chauvinistic view of women's football and the perception then was that it would never happen.
"Have we moved forward from then? Certainly. And is there an opportunity that it might happen further down the line? Possibly if that is what women want to do in terms of coaching."
Just three women coaches currently hold a UEFA pro licence compared to 200 men, while 17 women possess an A licence compared to 1,084 men. There are 25,275 women with the lower level 1 licence but 230,074 men have this qualification.
West Ham have a female chief executive in Karren Brady but Hammers joint-chairman David Gold believes there will never be a female manager.
Gold told Sky Sports: "How is she going to deliver that motivation before kick off? How is she going to deliver? How is she going to raise the testosterone levels in the players? I just find it very, very difficult that she is going to be swearing because it is part of the culture."
Premier League players have told Sky Sports News that they support the idea of a female manager but a number of current bosses have expressed their doubts.
When quizzed by a 35-year-old whether or not it would happen in his lifetime, Crystal Palace manager Ian Holloway said: "Probably not."
Wigan manager Roberto Martinez said: "I don't think it is a case of gender. I think it is more a case of knowledge and experience."
England women's head coach Hope Powell believes it would be possible for a woman to take charge of a professional team but believes the clubs themselves need to take a leap of faith.
"You need to ask the club owners if they are prepared to invest in a female manager and then it goes from there. There are more and more females that are qualified," she told Sky Sports.
"I am sure (it will happen) one day but it is all about opportunities. You have to look at the credentials and the experience that goes along with that."
Powell says she is yet to be offered the chance to take charge of a men's team.
"At this moment in time I haven't been approached. If it was any other industry we wouldn't be having this conversation. It is about career opportunity and if something appealing presented itself why shouldn't I apply for it. Why should it be any different in football?"