Anzhi Makhachkala coach Guus Hiddink open to Premier League return
Guus Hiddink is keeping an open mind about returning to the Premier League, but is enjoying his role with Anzhi.
Last Updated: 13/03/13 7:14pm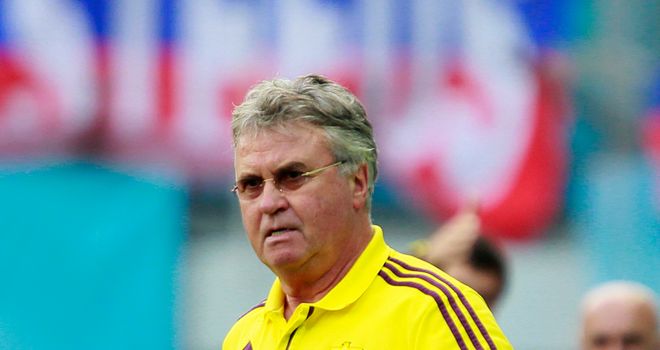 Hiddink spent a few months in charge at Stamford Bridge during the 2008/09 season and the 66-year-old has been mooted as a contender to replace Chelsea's current interim boss Rafa Benitez in the summer.
The Dutchman is back in England for Anzhi's Europa League tie against Newcastle United on Thursday night and Hiddink says he has got the energy for another big challenge.
Hiddink said: "I don't know because I'm not the youngest anymore, although I feel still very energetic and I love to be on the pitch almost every day with the guys.
"There is energy left, but I never can predict my future because a big part of the future is already behind me.
"I'd like to add a little sentence to that because it does seem in my answer that I'm not having a lot of joy in my current job, which is not true, I love the job which I am doing now.
"Anzhi are coming internationally from a small club. Within one year, the club image has increased a lot, the seriousness within the club and the way we are trying to play has given me also a lot of energy."
Asked if he missed English football, he said: "Of course. I enjoyed very much the Premier League, of course and in my Chelsea time, we played here (at Newcastle) and had a good result here, I remember.
"I enjoyed very much playing here. Overall, the Premier League is what every player likes to do and also the managers and coaches, they like to work in the big leagues, of course.
"I like very much the attitude of the players I had at Chelsea in my time. I liked very much the atmosphere in the stadiums, the public who enjoy very much and respect very much the way of playing."
Meanwhile, Hiddink played down suggestions that Anzhi have attempted to lure Chelsea's £50million misfit Fernando Torres to Russia this summer.
He said: "Officially, I can assure you there is no single approach to any player at this moment."
Anzhi head to Newcastle on the back of a 0-0 draw in Moscow last week, but Hiddink is unsure if the winner on Thursday night will be genuine candidates to lift the Europa League trophy.
He said: "Well, if you see now the teams who are going into this pyramid to the final on May 15 in Amsterdam, those are big teams, they are all big teams now.
"We are happy to be in the last 16 and it would be a tremendous achievement for us to be in the last eight.
"If you see which teams could be playing in the last eight, that's Champions League level.
"It's difficult and unpredictable to say whether the teams can go all the way. We like to go step by step and not think too much ahead, but if we could make the next step, it would give a lot of prestige.
"Newcastle, I know they have also, from what I have heard, the ambition to play in the final in Amsterdam, so it will be a nice clash tomorrow.
"But I cannot predict the future. If I could, I wouldn't have been a coach."