Sir Alex Ferguson says Rafa Benitez talking 'nonsense' over FA Cup handshake 'snub'
Sir Alex Ferguson has rejected Rafael Benitez's accusations that he refused to shake hands with the Chelsea manager.
Last Updated: 15/03/13 2:54pm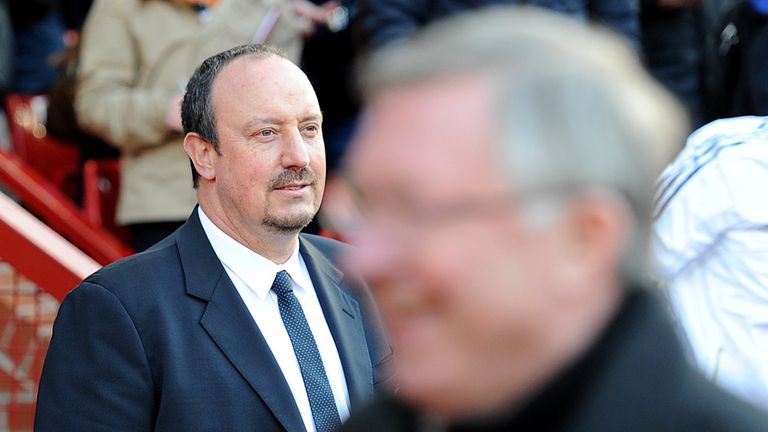 Benitez claimed he was waiting to shake hands with the United boss before the game but Ferguson walked past him without doing so.
The Chelsea interim manager said: "I was waiting at the beginning. It's up to him, I was in the way waiting."
Asked why Ferguson might have done so, Benitez added: "Ask him - if you are brave enough, ask him. It was his decision. I was ready and waiting. I have some education because I know a lot of people are watching so I know what I have to do."
But speaking on Friday at his press conference ahead of Saturday's Premier League clash with Reading, Ferguson said: "It is nonsense. Why would I refuse to shake his hand?
"I was signing autographs and I never saw him. Why he has said that I have no idea. If he wanted to shake hands he could have stood straight in front of me.
"It is absolute nonsense."
Ferguson confirmed neither Nani nor Phil Jones will be available for the Reading game, although in the former man's case, his hamstring injury is not as bad as first feared.
"When he came off against Chelsea last week we thought it could have been another bad hamstring injury," said Ferguson.
"It is not as serious as we thought but he could be out for a couple of weeks."
Saturday's game is the third time this season United have faced opponents who have just sacked their manager.
And Ferguson finds Reading's decision to axe Brian McDermott perplexing in the extreme.
"I never understand football," said Ferguson. "If they had done it in December or January maybe I would have understood it because he could have brought players in.
"Brian McDermott has done a good job given the outlay. He spent something like £1.2million and got in £7.4million and got them promoted to the Premier League.
"He was manager of the month in January - I hope I am not manager of the month this month."