Paul Lambert defends Aston Villa chairman Randy Lerner and thanks him for support
Paul Lambert has staunchly defended Randy Lerner's tenure as Aston Villa chairman.
Last Updated: 16/03/13 12:29pm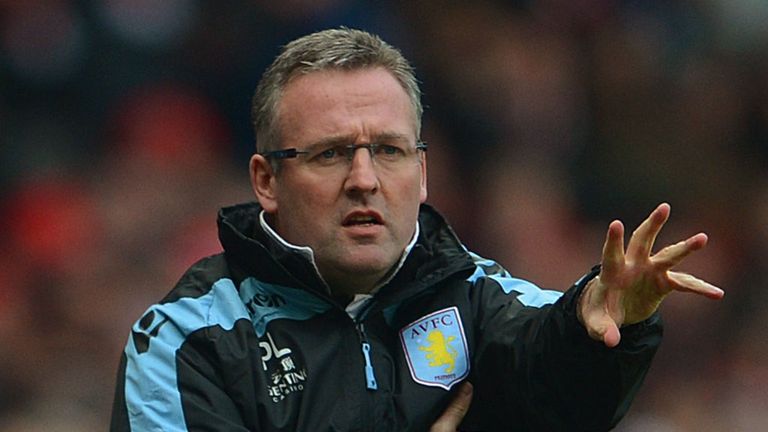 Villa sit one place and three points above the relegation zone and are facing the most important nine games of their recent history as they fight to secure Premier League safety.
Lerner has come in for criticism from the club's fans for the predicament, but has resisted the temptation to sack Lambert.
The manager appreciates the faith placed in him and is confident the two men can move the club forward in the next few years.
"I think Randy gets unfair criticism, I really do, for someone who has done one hell of a lot for this club," Lambert said. "He has done incredible things for the football club.
"I have got a really good relationship with the chairman here. He has been brilliant with me and so has [chief executive] Paul Faulkner.
"They have been very good and I think they see what everyone is seeing. But I also know football and what can happen. I know that, going by certain things, you don't always have to win games to avoid getting the sack.
"Randy was over [on Thursday] and he is what he was from the day that I met him. He has always been straight and honest. He has been very good with me."
Lerner has resisted the urge to sack Lambert despite seeing fellow relegation strugglers Queens Park Rangers, Southampton and Reading all replace their manager.
There have been strong indications in recent weeks that Lambert's job will be safe even if Villa are relegated, and the former Norwich boss hopes that is the case.
He said: "I hope so [that I stay]. It's a brilliant club. I love being here. But that will be for other people to decide.
"Would it make sense to be given the chance to see the job through? That's how you build stuff.
Dortmund template
"I think if you look at some of the teams that have done it, my old club [Borussia] Dortmund are probably the prime example. They had a clear plan.
"I was at Dortmund at a time when they had world class players and then the club lost its way a little bit and then came back.
"They had a plan to do what they're doing, and a few years later they're not too far away from having more massive success.
"Could that happen at Villa? If you get time to build it, that's the plan."