QPR chairman Tony Fernandes issues rallying cry to supporters
QPR chairman Tony Fernandes is determined they will carry on the fight for Premier League survival.
Last Updated: 18/03/13 2:40pm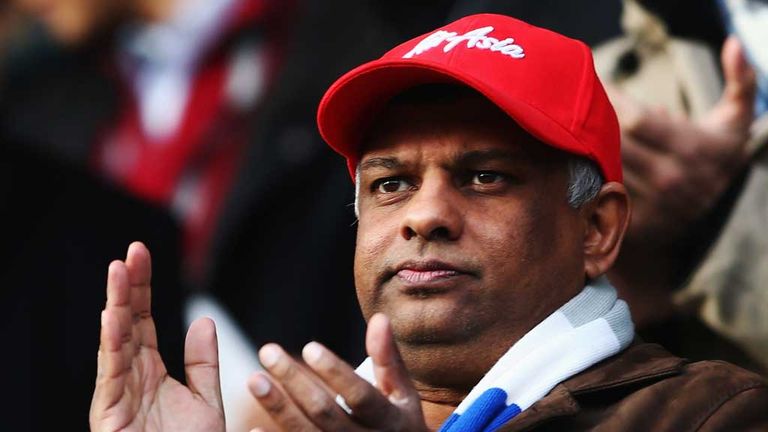 That result leaves the R's seven points adrift of Premier League safety going into the international break.
But despite admitting he is hurting at the moment, Fernandes has urged the club fans to believe they can avoid the drop, citing an impressive win over west London rivals Chelsea and back-to-back victories against Southampton and Sunderland as evidence of what they can achieve.
"I sit here in Malaysia feeling miserable. I am down. The fact that I and my other shareholders are feeling so miserable just means we care," Fernandes told the club's official website.
"We should have won at the weekend and made it easier for ourselves, but we didn't. So what!
"There are still eight games to go. We beat Chelsea at Stamford Bridge (1-0 on 2 January) and showed against Southampton and Sunderland that we are capable of putting wins together.
"We have scored seven goals in our last three fixtures, so anything can happen.
"We fight and we fight. I am not despondent at all. QPR has come a long, long way from where we were, and the plan continues.
"We inherited a club that lacked so many things, and we are rebuilding every aspect. That's a huge challenge.
"In any business there will be hiccups. But this is not a one-year or two-year project. This is a lifelong commitment. The shareholders have that commitment. The journey ahead is so exciting.
"We need a new training ground, a new stadium, a more successful academy. That's so exciting. How can anyone feel down for too long?
"Forget Aston Villa. Focus on the future. The path in front of us is exciting.
"So come on, let's show the world NOW what type of club we are. We're a club that believes, a club that has passion, and a club that never gives up."