Premier League chief executive Richard Scudamore against winter World Cup in 2022
Premier League chief executive Richard Scudamore is opposed to the idea of Qatar hosting a winter World Cup in 2022.
Last Updated: 21/03/13 12:36pm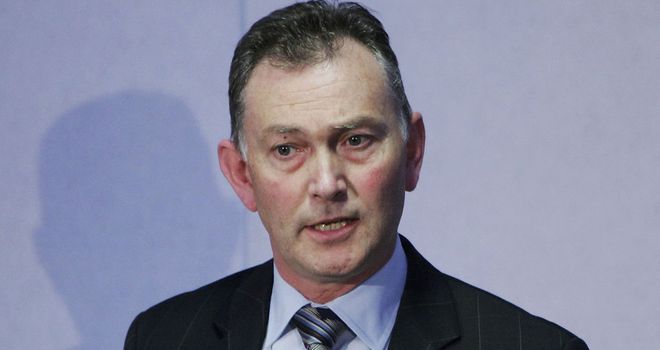 As temperatures in the Middle East soar over the summer, concerns have been raised as to the staging of international football's showpiece event in its traditional slot.
A winter tournament has been mooted ever since Qatar's successful bid, with leading figures in the world of football offering their support to the proposal.
Scudamore, though, claims the English authorities are prepared to challenge the suggested schedule change, with there a reluctance on their part to tinker with the Premier League calendar.
Asked if he was against a winter World Cup, Scudamore told Sky Sports News: "Of course, for a whole host of very practical reasons. It was bid for on the basis of it being a summer World Cup, that was the basis on which they won it.
"We have a European calendar, and in England we have an English football calendar which would really not sustain huge disruption.
"Something would have to give in terms of our rich football heritage, FA Cups, League Cups, the way the professional game in this country is organised, it would be hugely difficult to do.
"We don't want to be playing professional (Premier League) football in June and July. We have other sports in this country and across Europe, we have cricket, we have Wimbledon. We certainly don't want to be playing football across those other sports.
"We want it (the World Cup) to stay where it is, it is right that that should happen, and we will do all we can to make sure that happens."
FIFA president Sepp Blatter also expects the Qatar World Cup to remain in its traditional timeslot, saying there may even have to be another vote if they asked for a change.
He said: "For there to be a change to winter it is necessary that Qatar ask for it. They have not done so yet.
"And they know if they do they risk another of the 2022 candidates bringing a challenge before FIFA and the vote would have to be repeated."