Borussia Dortmund keeper Roman Weidenfeller hoping Robert Lewandowski stays
Borussia Dortmund's Roman Weidenfeller has urged Robert Lewandowski to snub a summer move to one of Europe's top clubs.
Last Updated: 01/04/13 6:25pm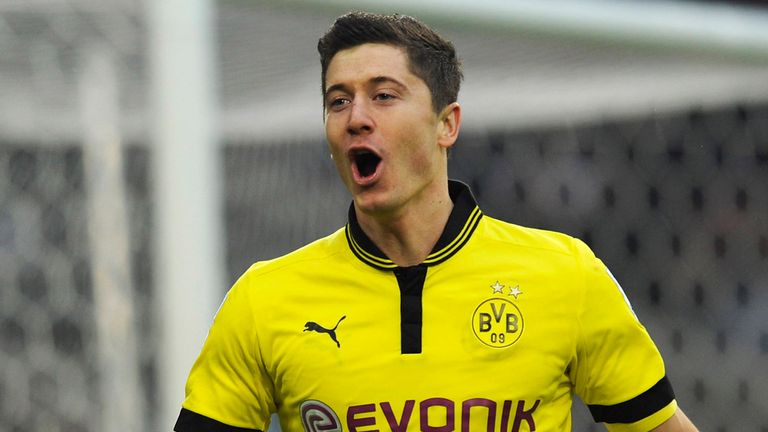 The Poland striker will be among the most sought-after assets on the continent when the transfer window re-opens.
Sides from England, Spain and Germany are said to be weighing up big-money offers for a player who has informed Dortmund that he has no intention of penning an extension to his current contract.
Weidenfeller is, however, of the opinion that Lewandowski is in 'the best place' for his career and hopes he can be persuaded to reconsider his stance and resist the temptation to take on a new challenge.
He said in The Sun: "Of course we joke around when we are in different cities in Europe. We make jokes about his next destination but we're just joking. Honestly, we would like to keep him here.
"Lewandowski is not only technical, he's also very quick and has a feeling for goals, so whenever there's a chance he senses it. Every club would be happy to have a player like him.
"The best place for Lewandowski is here in Dortmund and we hope to keep him. He grew to become a big player here and he belongs to this team.
"That's what makes him so strong and such a strong asset to the team. He should stay because we work as a team and he is such a big part."
Rumours
Should Lewandowski opt to move on at the end of the season, it has been speculated that Dortmund will look to bring in Manchester City striker Edin Dzeko as a direct replacement.
Weidenfeller is aware of the rumours, but is reluctant to be drawn into a transfer debate.
He added: "We know Dzeko, he's a great player and a great person - but this is a decision for the management and I don't want to comment on that."