Brad Guzan looking for Aston Villa to battle their way past Stoke
Brad Guzan is looking for Aston Villa to battle their way to safety, starting at Stoke City on Saturday.
Last Updated: 06/04/13 2:28pm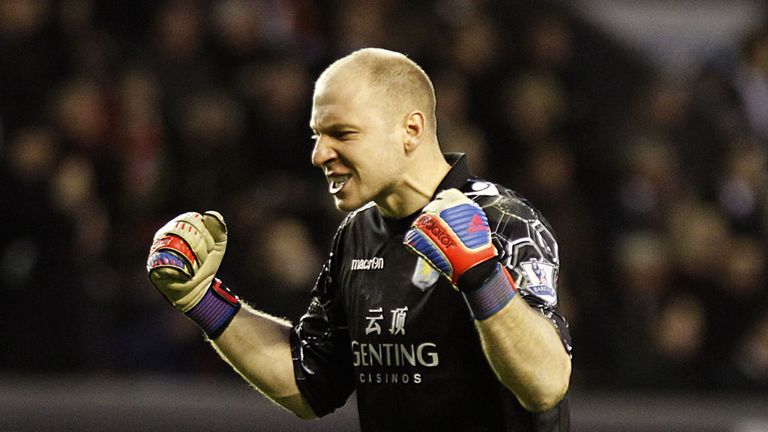 Paul Lambert has conceded this season that he does not have the biggest team, but what they lack in height they make up for in dogged determination.
Things may not have gone entirely to plan, as Villa remain in the relegation zone with seven games of the season remaining, but commitment levels have remained high throughout.
Guzan acknowledges that they need to make the most of that fighting spirit as they head into a crucial run of fixtures.
The American goalkeeper said: "Every game is physical and the more that we can get into team's faces and make it difficult for them to play, the better it is for us.
"It's high tempo, high energy. We want to make it difficult for them. Stoke are a big team, we'll have to go there, be confident and make sure we win those battles.
"It won't be easy but we'll definitely be ready for it.
"It's a man's game and you have to be a man about it, win balls in the air, whatever it may be. We have to be ready to compete. That's what the Premier League is all about."
Competitive
Villa are bottom of the Fair Play League and have accumulated 65 bookings and two red cards this season, but Guzan feels they can take positives from that statistic.
He added: "That's the competitive nature. You never want to see guys get booked but it's about fighting and showing that competitive spirit.
"I'm sure there are some reckless ones in there, but that's not going to change the way we play.
"There's a competitive spirit we have in the dressing room where we fight for each other, and fight for the shirt."