Southampton defender Jos Hooiveld feels he has proved critics wrong
Jos Hooiveld says he is enjoying "revenge" on critics who made him the "fall guy" for Southampton's poor early form.
Last Updated: 15/04/13 9:11am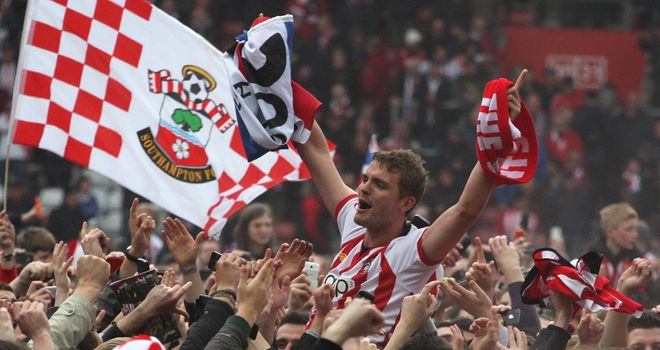 The centre-half is starting regularly under Mauricio Pochettino having lost his place to Jose Fonte in the autumn.
And after featuring in successive home wins against Manchester City, Liverpool and Chelsea and helping Southampton towards mid-table, Hooiveld is confident he has silenced the doubters.
He said: "I like to prove people wrong. If you look at my career, I've proven people wrong everywhere I have been. I did at Celtic and then in Copenhagen they didn't want me.
"At the end of the day, I am standing there with a smile on my face and that is football.
"If you're going to look at all my games at the beginning, it was not that poor. People were saying it was poor, it was bad and they had to blame someone. Oh, and that is me.
"We're now over that, it is nice to play and it not like I am amazing now and before I was terrible, you know?
"I think the best part of everything is that we're getting the points, but at the beginning of the season you could see that the whole team was struggling.
"We didn't have much experience in the Premier League so it was a bit annoying when it was 'Jos this', 'Jos that'. I was a bit unfortunate with own goals, penalties or whatever. It was a thin line.
"Sometimes you are the praised man and at the beginning of the season I was the fall guy. I took the blame for everything. It bothered me a little bit when people pointed the finger at my direction.
"It is always nice to get the revenge and I always knew as soon as everyone was established we were going to be a serious Premier League side."