Liverpool managing director Ian Ayre to deal with Luis Suarez biting incident
Sky Sports understands Ian Ayre has postponed a trip to Australia to deal with the Luis Suarez biting incident.
Last Updated: 21/04/13 8:54pm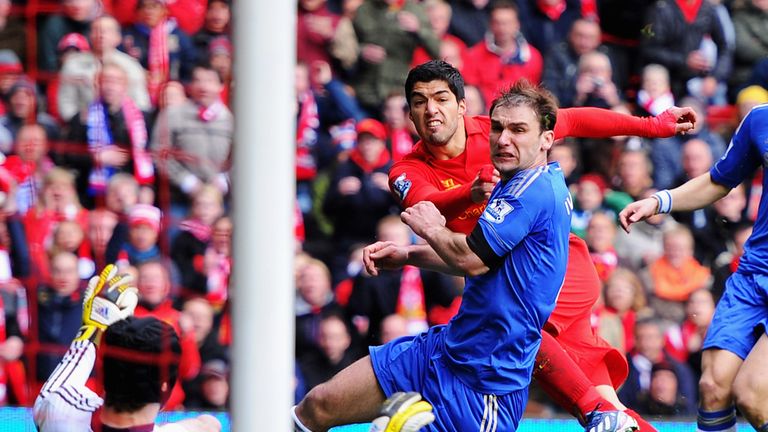 Television footage appears to show Suarez biting the arm of Chelsea defender Branislav Ivanovic midway through the second half of Sunday's 2-2 draw at Anfield.
The Football Association is investigating the incident and Ayre has now called off a trip down under in order to contend with the fall-out.
Liverpool boss Brendan Rodgers will not make any comment on the incident until he has reviewed the video, but confirmed the matter will be discussed with the club's owners, the Fenway Sports Group.
"I hear all sorts of what has supposedly happened but I'll go away, review it and comment later," said Rodgers.
"We'll go away and speak to them (owners Fenway Sports Group) afterwards and take it from there.
"This is a club with incredible values and ethics here. As footballers, managers and staff we are representing this great club on and off the field.
"I will always speak openly and honestly about the players and protect them when I can and if I think they are wrong I will tell them - as I have already happened this season with Luis (when the striker admitted to diving).
"People have to accept it when they do wrong if that's what the case is. They have to accept the consequences accordingly. It's disappointing that we are not talking about the football."
Suarez's spell at Anfield, having arrived from Ajax having just served a seven-match suspension for biting PSV Eindhoven midfielder Otman Bakkal, has been dogged by controversy.
Last season he was banned for eight matches after being found guilty of racially abusing Manchester United's Patrice Evra and earlier in the campaign admitted diving in an attempt to win a penalty.
Despite his 'darker' side the striker is still coveted by Europe's top clubs and Liverpool are expected to have to fend off interest from them this summer.
However, Rodgers insisted now was no time to be deciding whether they had to sell him in the wake of the latest incident.
"It is not for me to make any rash comments or any predictions now," he added.
"This is a football club where historically players treat people with how the football club respects society, players and everyone. There is certainly no-one bigger than this football club, as a player or a manager.
"Players are always replaceable no matter how good they think they are. That is how football works.
"Of course there are wonderful talents here we've seen at this club and others over many years. You lose a player you think you can't replace but the next one comes along.
"The standards at this football club have been met for many years and that's why it is the worldwide institution that it is.
"The history of this club is about respect and how people are treated and that is something that will always be maintained here and will always be long after I am gone."