Theo Walcott believes Arsenal can finish in the top four and insists Wenger's quiet intensity has fuelled them of late.
Theo Walcott feels Arsenal can finish in the top four and says Arsene Wenger's quiet intensity has fuelled them of late.
By Alex Hinds
Last Updated: 28/04/13 3:16pm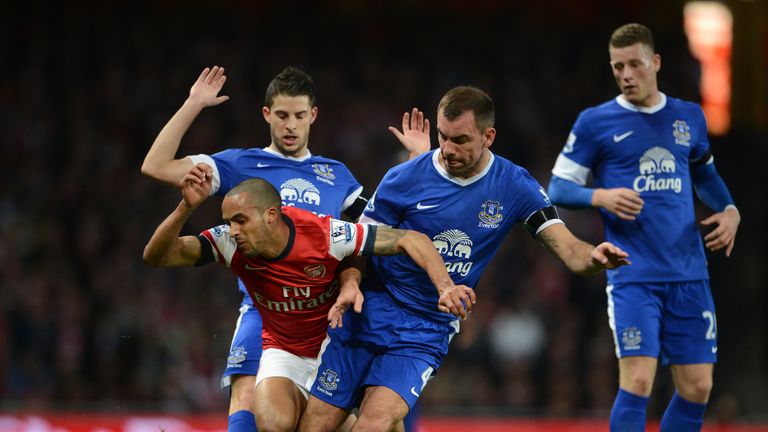 The Gunners, who dismantled Bayern Munich in a Champions League game last month, have continued their good form in the Premier League after winning five out of their last six matches.
Arsenal currently sit third in the table, but are only just ahead of London rivals Chelsea and Tottenham Hotspur prior to Sunday's game against newly-crowned champions Manchester United.
Walcott is aware that Arsenal must finish strongly and he believes in manager Wenger to keep the side mentally prepared for a final push.
"We all understand how much it means to him, as well as to us, and how much belief he has in us," Walcott told Sport magazine. "That should be enough to spur us on, to do it for him.
"He definitely lets us know (if he we haven't performed well) the following day, that's for sure. There have been a couple of those this year.
"People think he doesn't let loose, but he can - just in quite a calm way."
He added: "We just haven't been at that consistent level to do it at times. We did need a little kick up the backside to get us back on track.
"But lately I think we've worked harder as a unit. We've kept more clean sheets, everyone is in their positions and there's more communication.
"We need to be having more of a go at the league, definitely. We want to compete, and we can do it.
"You saw when everyone was against us we had a great result like the one at Bayern Munich - winning 2-0 away from home and then doing the same at Swansea.
"I think you can see the players want it a bit more because they want to prove people wrong.
"We want to show we're still a top four team. Next year though, we want to be right up there."