Liverpool striker Luis Suarez accepts 10-game ban for biting Ivanovic
Luis Suarez will serve a 10-match ban after deciding not to appeal against his punishment for biting Branislav Ivanovic.
Last Updated: 26/04/13 5:54pm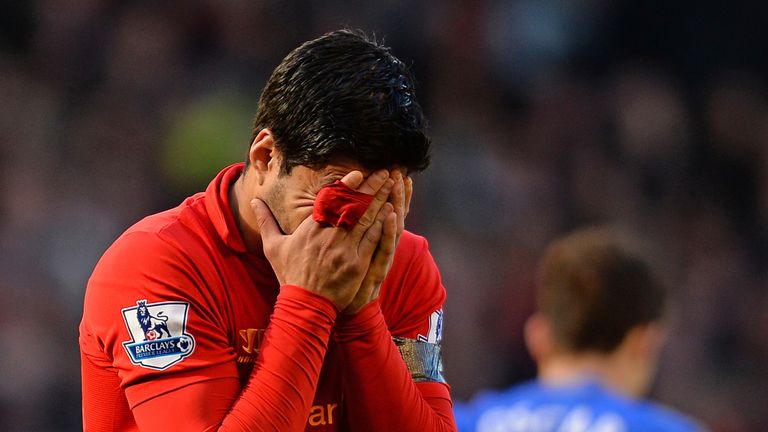 The Anfield club received the written reasons for the length of their star striker's suspension on Thursday evening and had until noon on Friday to contest the independent panel's ruling.
The Uruguay international will miss the remaining four games of this season and, if he is still at the club, the next six domestic games of next term, meaning he would have to wait until the end of September to return.
The Football Association said in a statement: "Liverpool forward Luis Suarez has not appealed the suspension issued to him by an independent regulatory commission this week.
"A three-person independent regulatory commission upheld the FA's claim that a suspension of three matches was clearly insufficient and the player will now serve a further seven first-team matches in addition to the standard three.
"The suspension begins with immediate effect and applies to Liverpool FC's next 10 domestic first-team fixtures.
"The FA intends to publicise the independent regulatory commission's written reasons in due course."
Manager Brendan Rodgers had spoken emotively in defence of his player at a press conference on Thursday, accusing the FA panel of bias and of "throwing (Suarez) to the garbage".
But despite a remarkable display of support from his manager, Suarez is understood to have heeded legal advice to accept his fate.
A follow-up statement from Suarez, released on his Facebook page, pointed to a perceived inconsistency between his punishment and those in "past cases where players have actually been seriously injured".
But the Uruguay international struck a contrite tone overall, saying: "I hope all the people I have offended will grant me forgiveness and I repeat my personal apology to Branislav.
"I know all the things happening to me in England will help me improve my conduct on the field.
"I decided to accept the ban because, whilst 10 games is clearly greater than bans given in past cases where players have actually been seriously injured, I acknowledge that my actions were not acceptable. I do not want to give the wrong impression to people by making an appeal."
Suarez, who was banned for eight games last season for racially abusing Manchester United's Patrice Evra, will not be seen again in the Premier League until the end of September.
His statement went on: "I really want to learn from what has happened in the last two-and-a-half years. Many things have been said and written about me, I just tried to do my best on the field."
Liverpool's managing director Ian Ayre said: "We are all disappointed at the severity of the punishment and in particular the differing standards that have been applied across various previous incidents.
"Luis is an important member of our team and nothing has changed in that regard. We are committed to helping him improve his conduct and he will be given our full support.
"We look forward to him returning to the team next season when he is available for selection."