Harry Redknapp: Stars must be ready to fight way out of Championship
Harry Redknapp says his QPR players need to be ready for a scrap if they want to return to the top-flight.
Last Updated: 28/04/13 12:43pm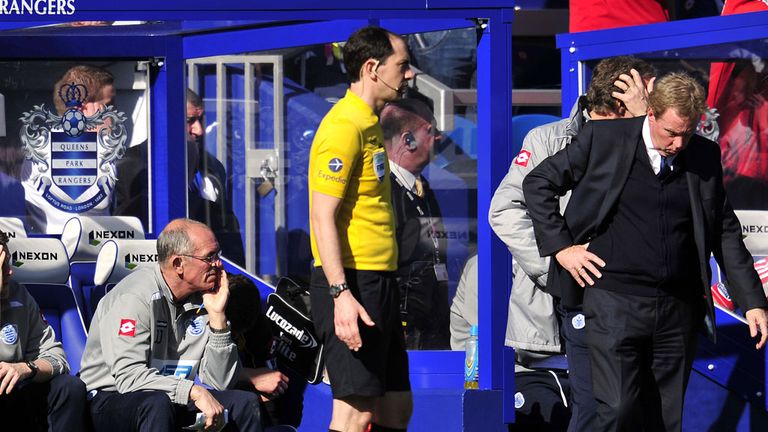 Redknapp is coming to terms with the prospect of relegation - QPR will be relegated on Sunday if they lose at Reading and even if they win, victory for Aston Villa over Sunderland on Monday would send them back to the Championship.
The expensive recruitment of the likes of Chris Samba and Loic Remy has failed to stop Rangers' slide towards the second tier.
And Redknapp insists those who start the season with the club must be prepared to roll their sleeves up to escape from the Championship.
"They get paid, they've got to be motivated. If they're not, we'll start paying them again when they are," Redknapp said.
"It shouldn't be hard to keep the players motivated. I keep myself motivated. I left home at 6am. I've still got the hunger otherwise I wouldn't do it. It will be a big challenge. You're not just going to walk through that league."
Redknapp admits he will not spend much money to strengthen his squad this summer - but he hinted he will be looking to recruit a different kind of player for a Championship campaign.
He added: "I wouldn't be looking to spend a sizeable amount. You don't have to spend fortunes. The players are out there. There are enough good players here to give you a platform to work with. We just need a few characters.
"The silly thing about this game is the ones you want to keep are the ones who want to go, and the ones that you would like to let go don't want to go."
Redknapp continued: "Remy's done great. He could score 20 goals a season in the Premier League.
"He's our leading scorer and he's only played a handful of games. We'd like to keep him but we'll have to sit down and see what his plans are."