Inquest into Hillsborough disaster will be heard in the North West
The inquests into the deaths of the 96 victims of the Hillsborough disaster will be held in the North West.
Last Updated: 02/05/13 5:49pm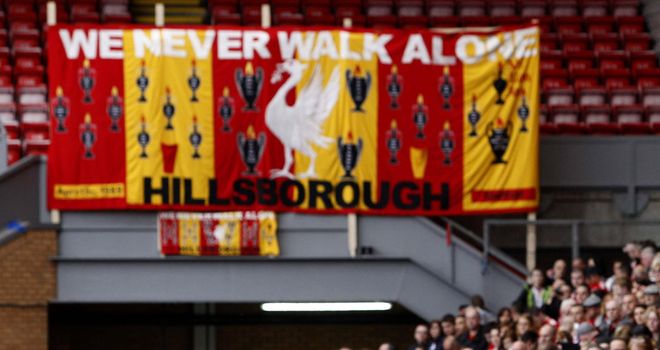 Lord Justice Goldring made the decision after considering conflicting arguments put forward at a preliminary hearing last week to decide whether it should be held in the North West or London.
In a written direction, the judge said: "I have concluded that it would be right for the inquests to be held in the North West. It would not be helpful further to identify a location at this stage.
"The hearing is bound, it seems to me, to take several months. If it is held in London, those who wish to follow it in person will be away from home and living in hotels for a very long time.
"It is plainly not a practicable solution for someone to commute from Liverpool or the north-west on a daily basis."
A difference of opinion had emerged between two separate campaign groups last week, with one side keen for the inquiry to be held in the capital and the other preferring the North West.
Some 71 families from the Hillsborough Family Support Group (HFSG) were keen for the hearing to take place in London, while a smaller group from the Hillsborough Justice Campaign (HJC) asked for it to take place in the North West, but outside of Liverpool or Manchester.
Michael Mansfield QC, who represents the 71 HFSG families, argued that animosity and rivalry among football clubs in the North West may impact upon proceedings, with London more suited due to international interest in the proceedings.
But Lord Justice Goldring disagreed, adding: "I have no doubt that a location can be found in the North West without the risk of actual or perceived prejudice.
"If there is a jury, those of us with experience of them know perfectly well that with proper and clear directions they soon put behind them anything they may have read or thought and concentrate on the evidence before them."
Britain's worst sporting disaster happened at Sheffield Wednesday's Hillsborough stadium on April 15, 1989, during Liverpool's FA Cup semi-final against Nottingham Forest.
The 96 supporters lost their lives after being crushed in the ground's Leppings Lane terrace.
Following the efforts of the Hillsborough Justice Campaign, the verdicts of accidental death from the original inquest in March 1991 were quashed in December 2012, with a fresh inquest due to take place in early 2014.