Wigan will be in for a tough time on Saturday says West Brom boss Steve Clarke
West Brom head coach Steve Clarke says relegation-threatened Wigan can expect a very tough game on Saturday.
Last Updated: 04/05/13 2:44pm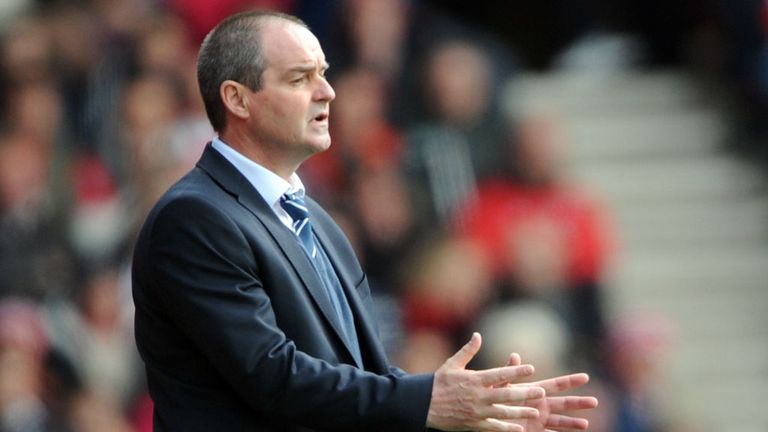 Wigan are five points from safety and will be hoping the Baggies, who are safe in eighth, but six points behind seventh-placed Liverpool, may be lacking in motivation this weekend.
But there was little sign of the West Brom players taking their feet off the gas during last Saturday's 3-0 win at Southampton and Clarke says Wigan are in for a similarly tough time.
"I don't think they'll get an easy game here," he said.
"Not too many teams come to the Hawthorns and get an easy game, and I don't think that will be the case this weekend.
"Maybe Southampton thought last week that it was a mid-table clash with nothing on it.
"We certainly went down there and showed them it mattered to us and that we wanted the points.
"It's no different this time. We have our own ambitions and our own targets. We like to finish the season well and play well in front of our own fans.
"The game against us, I can assure you, will be difficult, because we've been good at home."
Final not a distraction
Clarke thinks Wigan's past battles with relegation will stand them in good stead this year and does not think they will be distracted by their FA Cup final berth.
"The cup final will take care of itself," he said. "They've got league matches they have to look at.
"Wigan are a team who are, and maybe this is not the right word, quite comfortable down there fighting.
"Over the years they've always been in the lower reaches and they know what they have to do to get out of it.
"They've got a manager in Roberto Martinez who doesn't panic and he knows there are points still to be had.
"They are a team who still produce good football, even though they are struggling in the league."