Premier League: Sunderland boss Paolo Di Canio wants his players to forget about hype
Sunderland boss Paolo Di Canio wants his players to forget the hype which surrounds the Premier League.
Last Updated: 02/05/13 6:12pm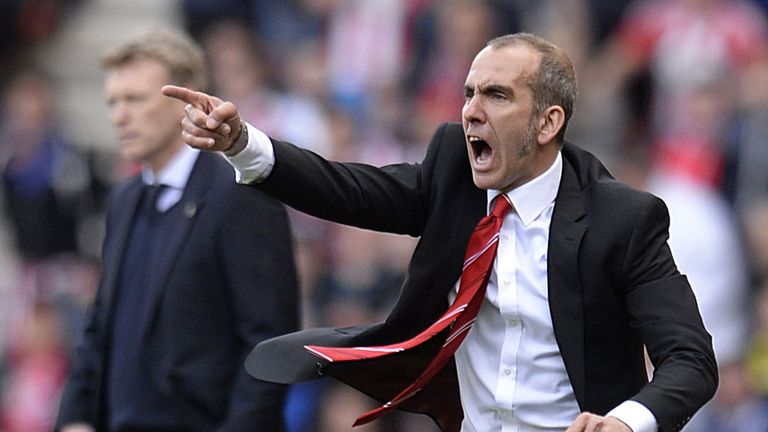 The Italian's Black Cats were feted as heroes on Wearside when in just his second game in charge, they went to Newcastle and won at St James' Park for the first time in almost 13 years.
Di Canio's stock rose further six days later when a first victory over Everton in 20 attempts lifted them clear of the battle for top-flight survival.
However, Monday night's 6-1 drubbing at Villa Park left Di Canio's shell-shocked players contemplating a tricky run-in to the end of the season as they prepare to welcome Stoke to the Stadium of Light on Monday evening.
He said: "After Newcastle, it was a three-day party for the fans, they players became heroes.
"I couldn't go 400 yards for a haircut. In Sunderland, there is a passion like Naples. You can't go out because a butcher comes out with meat saying, 'It's for you, for your family'.
"You couldn't go into the town, I couldn't believe it. Even in the street during the day, I went 300 hundred yards and 20 people stopped me.
"Many girls came and hugged me and I was wondering what was going on. I couldn't imagine this passion. I can imagine the players around the town.
"It's another experience for me. It was very tough, the first time I had lost 6-1 with my team in front of our fans at a crucial moment of the season.
"But because the analysis we made was clear, I am sure that we can lose, we can draw, we can win, but on Monday night, we are going to perform in a proper way. I can guarantee this."
He added: "But we have to make sure for the future that there can't be too much positive poison because otherwise we are going to lose because we are worried, or because we have too much confidence.