Premier League: Tony Pulis reflects on 10 years of progress at Stoke
Tony Pulis admits to feeling a lot of pride when he looks back at his time as Stoke City manager.
Last Updated: 05/05/13 2:12pm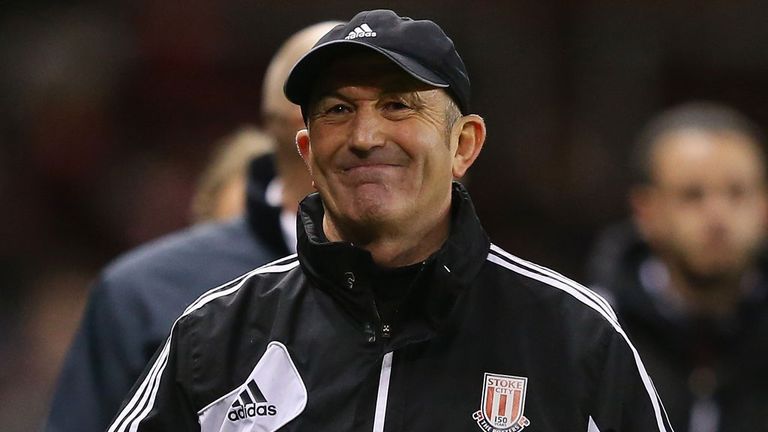 The Potters celebrate their 150th anniversary next weekend with hopes high that their slump in form came to an end in time and that they will be playing in the Premier League again next season.
Pulis takes Stoke to Sunderland on Monday night but before that trip he took time to look back on how far the club has come since he took over for the first time in 2002.
That season saw the club narrowly avoid relegation to the third tier, beating Reading on the final day to survive, but the last five seasons have been spent in the Premier League and Pulis hopes that continues for many seasons to come.
"Those were two monumental games for this football club. To drop out of the Championship into League One would have been an absolute disaster," said Pulis, speaking at Stoke's state of the art training ground.
"I don't think people realise how big and how important that game was. And obviously the Leicester game has taken us to where we are now.
"I'm very proud. I've just been for a walk around the training ground to have a look at the academy pitches and it's just lovely to be out there.
"I'll never forget walking round this area with the Icelandic people in charge and the grass was round your knees. Sometimes we had to put the goals out ourselves. There was nothing here. No buildings, no Portakabins, nothing. It's unrecognisable.
"It's a good question for all the supporters: what was the team that got us that result against Reading, what was the team that played against Leicester and what will be the team that will play on Monday night?
"It's such a change, it's amazing. Time moves so quickly, it will be interesting to see how many supporters get that and can get that.
"The biggest thing was to manage the players. While everything's crumbling around you, you have to make sure they stay nice and solid.
"That's the important thing about management, it's not just doing it when things are going well. When things are not going well that's really when you come to the fore. You have to steady everybody and invigorate them and make sure they've got the confidence to push on."
"The performances we've put in away from home have been good but we could do with two really good performances at Sunderland and Southampton.
"The Tottenham game will look after itself because it will be a fantastic occasion for the football club being the 150th anniversary. There's loads of stuff going on and we entertain one of the top teams in Europe (Tottenham)."