Paul Lambert wants Aston Villa to secure survival in front of chairman Randy Lerner
Paul Lambert wants Aston Villa to secure their Premier League status in front of chairman Randy Lerner on Saturday.
Last Updated: 11/05/13 11:57am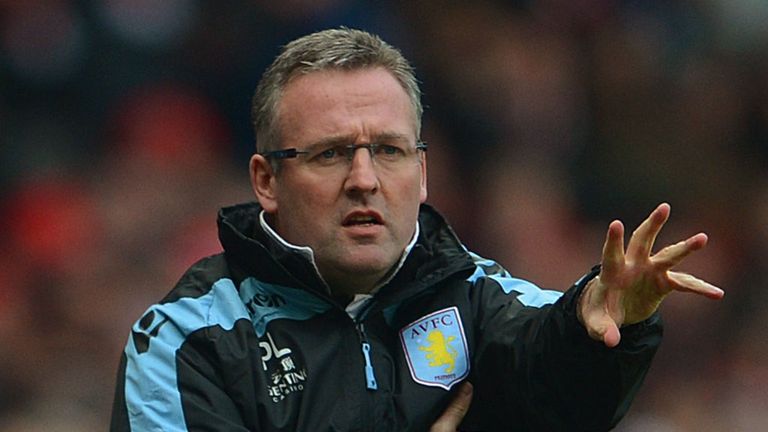 American billionaire Lerner will be in the stands when Chelsea visit Villa Park and a victory for Villa would guarantee they cannot be caught by 18th-placed Wigan.
Lambert's side will also be looking to avenge their 8-0 defeat at Chelsea on December 23.
"You can get caught up in certain things," Lambert said of the Stamford Bridge humiliation. "The defeat hurt. But great credit to the team - they never got their heads down and wilted with it.
"They kept their heads and kept on going. Now the impression is there for all to see. We have been playing really well.
"We are a threat - everyone knows that. We have players who can hurt teams.
"I am pretty sure Chelsea will know we have lads on the top of their game at the minute. We know it's going to be hard.
"The beauty of it is that everyone except ourselves and our fans will expect Chelsea to win it because of the team they are.
"The onus is on us as the home team but we are certainly playing well enough to try and hurt them.
"We know we're in for a really hard game. They are going for a Champions League place. They have the Europa League final during the week.
"They are a really good side - everyone knows that. They are a top, top side. They won the Champions League last time out. We know how hard it is.
"But we're a different team to what we were then."
Lambert revealed he will discuss future plans with Lerner once Villa have put their relegation fears to bed.
"We haven't talked about it yet but we will probably do that if we get over the line," the Scot said. "We have discussed general things about how things are going. It's just been small talk.
"Randy has been great. He has been from day one. He's been really supportive. We just had a general chat (this week) - nothing too major. He was just up to see us. He has been really supportive all season."