Sunderland defender Phil Bardsley describes his season as a 'disaster'
Phil Bardsley was delighted to score a crucial goal for Sunderland but has branded his own season as a 'disaster'.
Last Updated: 14/05/13 5:31pm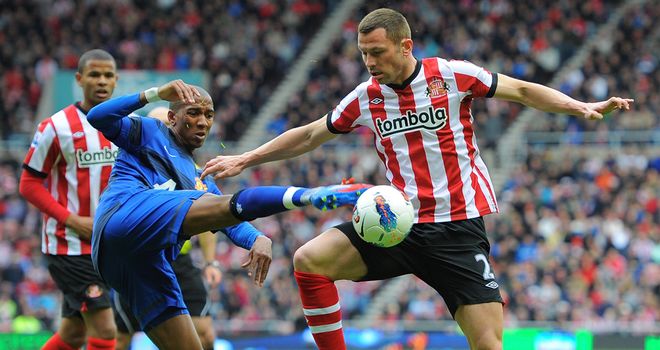 Bardsley scored his first goal of the season in the Black Cats' 1-1 home draw with Southampton and hopes it could be the all-important strike.
Bardsley said: "Hopefully that goal will keep us up.
"It's nice to get on the scoresheet after a disaster of a season for myself personally.
"I'm delighted that I've been able to put something towards this season and give something back. I can't wait for the end of the season.
"I've enjoyed every minute of six seasons at Sunderland, but this one has been the most difficult in terms of injuries and not being as fit as I have been previously when I've been at the best of my form.
"It's been disappointing season all-round and hopefully I can put that right."
Paolo Di Canio's side just need a point on the final day at Tottenham to ensure Premier League football for another season and Bardsley thinks his side are capable of picking up the points at White Hart Lane. He added: "Even though Spurs are a great team, we can go there and try to get a result, even though we'll be looking for Arsenal to do us a favour as well.
"The Emirates isn't the easiest place in the world to go".