Premier League: Liverpool legend Jamie Carragher set for emotional farewell
Liverpool legend Jamie Carragher is ready to bring down the curtain on his career against QPR on Sunday.
Last Updated: 15/05/13 3:12pm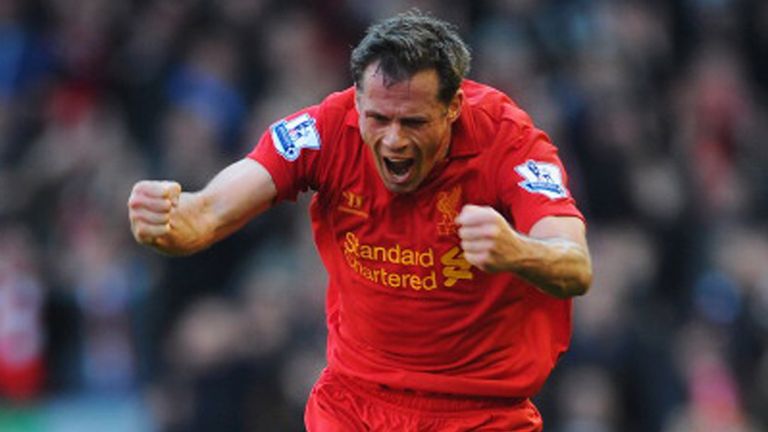 The former England international, 35, made his Reds debut in 1996 and has made over 700 appearances for the club.
Carragher, who has signed up as Sky Sports pundit for next season, said: "The more I've been in the team, the more I've wanted to stick with my decision and go out playing. I've been quite fortunate really that at the time that I announced it, I kept myself in the side.
"I can go out playing, which is something I'd prefer rather than maybe stay another year and be in the stand, on the bench or wherever it may be.
"I've never ruled anything out or in. I've gone down this road for a couple of years, I'll see if I enjoy it or if I'm any good at it, and see where it takes me. I've been playing football all my life and I'm looking forward to doing different things, and seeing where it takes me.
"I wish I'd have won the league. But you've given it everything and done as much as you can in terms of what you put into it. It's a team game; there are different managers and coaches who have helped you along the way, you do your best. I've done alright.
"If someone had offered me to be here until the end of my career - the trophies, the big games we've played and won, the stadiums I've played in - I'd have bitten their hand off for that. I'm very lucky to have played with some great players, top managers and given the opportunity to experience those wins and sometimes losses. I've been very lucky."
When asked what his favourite footballing memory is, Carragher added: "Istanbul, nothing will beat that - the Champions League final. There's no point going over the game, I think we all know what happened that night. It's difficult to ever top that."