Martin Jol insists he will be in charge at Fulham at the start of new season
Fulham manager Martin Jol has dismissed reports suggesting he will leave the club in the summer.
Last Updated: 17/05/13 3:15pm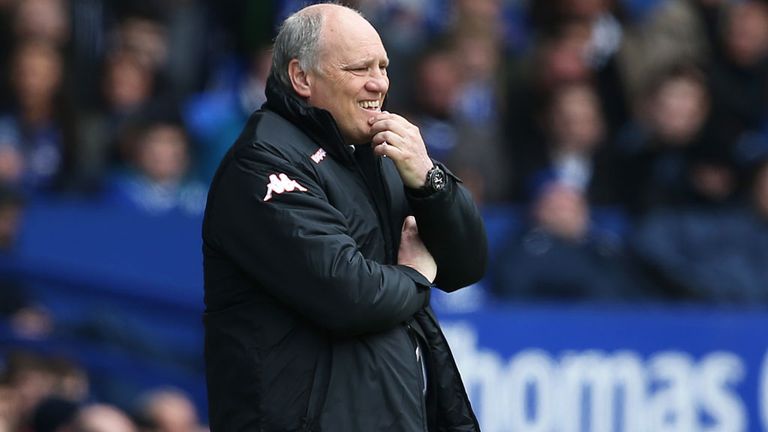 It has been a disappointing end to the season for Fulham, who have been sliding down the table with five straight Premier League defeats.
Gus Poyet - currently suspended at Brighton - has been linked with a move to Craven Cottage whilst Jol has been tipped to move to Everton to replace David Moyes.
But Jol, who signed a one-year extension to his contract earlier this season, rejected talk that he is frustrated by a lack of funds to strengthen his squad.
"I signed an option and that is a long time ago, ages ago," he said. "For me, there is no difference. It is not something from the last 48 hours as [the speculation] happened before.
"If people make up a little story and I speak about new players coming in, of course you need a little bit of money.
"They associate us with the chairman and he has to give us the funds, but we are healthy club.
"We will try to get some players in so there is no story. I am very happy. It is 10 minutes from my house, my girl is going to school and she loves it there.
"She had her first competitive match yesterday against another school and they beat them.
"She was happy, I am happy, the missus is happy and hopefully I can make the fans happy again as well."
Jol insisted he will be bringing in new blood in the summer - Wolves' Bakary Sako, Athletic Bilbao defender Fernando Amorebieta and Roma's Maarten Stekelenburg have all been linked with Fulham and the manager confirmed a deal is in place for one of them.
"It is not easy," Jol said. "We have to pay a lot of money for these players. Of course if you have got players on loan you won't generate a lot of money. They go back, you don't get any money for them.
"We have to be creative again but from the names you named, there is already one on the board. But I will talk to the press next weekend and we will confirm everything."
One player definitely at Fulham next season is right-back Sascha Riether after German club Cologne on Thursday confirmed he had made his loan spell permanent.
"We agreed a deal with Cologne so he will stay here," Jol said. "We took the option, we spoke to them.
"Of course we had that option last year and we took it before May 15 so he will be our player next year."
While Riether's future is sorted, Jol is still speaking to Fulham chief executive officer Alistair Mackintosh about others whose contracts soon expire.
One such player is veteran goalkeeper Mark Schwarzer, who last week claimed there had been no offer on the table to extend his stay past the summer.
"We made an offer to them and he did not accept that," Jol said. "We will hope to talk with him as well. There is no deadline with him."