Rafael Benitez believes 'the job is done' ahead of his final game as Chelsea boss
Rafael Benitez stated "job done" as he prepares for his final match as Chelsea manager against Everton on Sunday.
Last Updated: 19/05/13 3:53pm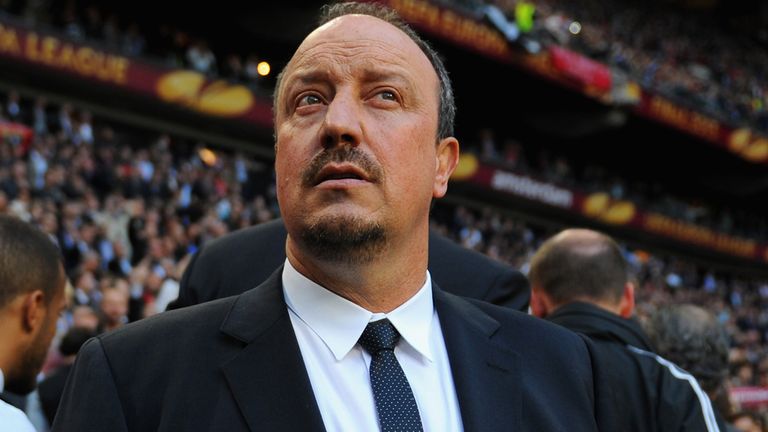 After seven months in charge of the Blues, the Spaniard has led Chelsea back to the Champions League as well as leading them to Europa League glory on Wednesday.
After months of criticism while in charge, Benitez said: "It doesn't matter what some people will say. I think the job is done."
And Benitez maintains that his successor, whether Mourinho or not, will inherit a vastly-improved team.
"I think maybe the next manager will have some experience here, too, so I don't need to give him any advice," said Benitez, again suggesting he believes Mourinho will be in charge next term.
"It's a stronger team. The players they have been improving and they have more experience.
"The team will be much better and the new manager, I think, will have an easier task because he will have more quality, more experience and he will start in pre-season. That is also an advantage."
Benitez has had numerous critics since his November appointment after Champions League-winning boss Roberto Di Matteo's departure, not least the supporters.
"You cannot convince everyone," the former Liverpool boss added.
"I've been consistent in my message. I was trying to do my best every single day. I did it the other day and we won.
"I did it yesterday and I will try to do it on Sunday and after in America [for next week's post-season friendlies with Manchester City]."
Benitez has no regrets about taking up the job and highlighted qualification for the Champions League, lifting the Europa League trophy and scoring eight goals against Aston Villa in December as his most memorable moments at Stamford Bridge.
He said: "I am a manager and I like to manage a top side. Chelsea is a top side so I was quite pleased with this option.
"I think we played very good football, very attractive football during the whole season.
"We have scored 145 goals. That is the record in the history of the club. It's quite important.
"As a manager you have to be satisfied. A lot of very good memories."