David Moyes bowed out with pride in his Everton team despite Chelsea defeat
David Moyes was full of praise for his players as he bowed out as Everton boss with a 2-1 defeat at Chelsea.
Last Updated: 20/05/13 7:00am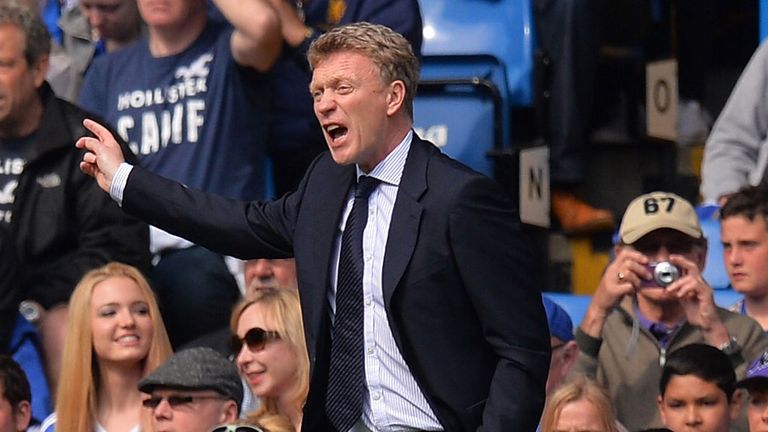 Steven Naismith had equalised Juan Mata's first-half goal but Fernando Torres came up with a second-half winner to ensure it was Rafa Benitez not Moyes who would finish with a win.
Moyes was disappointed by that but had nothing but positive words for his players as he prepares to leave to take over at Manchester United, ending his 11-year stay with the Toffees.
"It was a really good game and we played well," Moyes told Sky Sports. "We certainly didn't deserve to lose today.
"We were excellent in the first half and then went behind with a bit of a mistake leading up to that but we deserved our goal back.
"In the second half we didn't start the game so well but we created a lot of chances and at the worst we should have had a draw out of it."
Tim Howard was responsible for the opening goal as he failed to cling onto a tame Demba Ba shot but Moyes preferred to focus on the positives of a sixth-place finish.
"We'd actually been the better team and they caught us a little bit on the break from a spill out by Tim that hasn't happened all season," he added. "So that gave them a pretty easy goal.
"But the players were magnificent today, they really were. This was a game today where we couldn't go up or down the table.
"We wanted to get a record points total if we could but I couldn't really fault the players for the way they went about their job. They didn't stop playing and kept trying to win the game.
"We have had a fabulous season. I think if you'd asked the bookies at the start of the season where they'd have thought Everton would finish they'd have said somewhere around here but there are a lot of good teams below us as well."