Premier League: Theo Walcott targets Premier League title for Arsenal
Theo Walcott is confident Arsenal can win the Premier League next season if his team-mates believe in themselves.
Last Updated: 25/05/13 3:34pm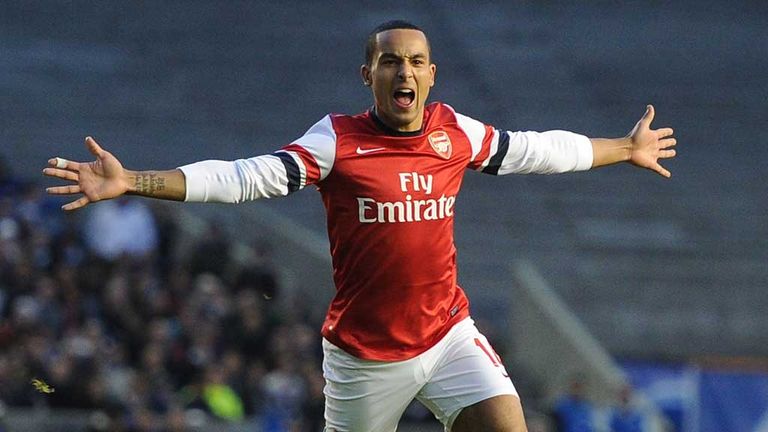 The Gunners clinched fourth place - and a potential Champions League spot - on the final day of the season at Newcastle, but Walcott insists they should be aiming higher next campaign.
The England winger told The Sun: "I think this Arsenal team can achieve anything.
"We should be competing for the Premier League every year, that's our first priority.
"In every competition we can go far - as long as we believe we can.
"We need to realise how good we really are because, at times, we don't think that.
"When we go a goal down you do see the players stepping up. And if we do that from the start we can beat anyone."
The 24-year-old also defended manager Arsene Wenger, who has received criticism in light of the club's eighth year without silverware.
He said: "Every time we don't perform, he (Wenger) always puts it on himself.
"And at times it's not fair, because we're the players that go out there every week."
"I think the boss always had such belief in me from such a young age, so I'm going to repay him by trying to win something.
"He's a great manager, one of the managers I always wanted to play for. And having so many years with him, I've learned so much."
Walcott, who managed 21 goals in all competitions this season, also spoke of his relief of the conclusion to his contract situation.
The forward signed a new and improved three-and-a-half-year deal in January which means he will remain at the Emirates Stadium until the summer of 2016.
He said: "It was on my mind because it was so close. Thankfully it's all sorted.
"It's nice to see that the club and myself have been very loyal to each other.
"I always said I wanted to stay, it was just picking the right moment because of being on the bench at the start of the season and not playing.
"But I believed I could get back into the team. I know how good this team is and I feel that when I play, the team is better."