Liverpool managing director Ian Ayre upbeat on Anfield development
Liverpool managing director Ian Ayre feels they are progressing well in their plans to redevelop Anfield.
Last Updated: 07/06/13 11:27am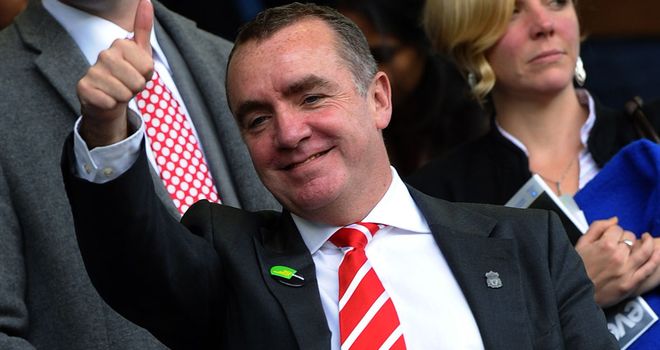 After deciding last October to remain at Anfield rather than moving to a new stadium, the club have been buying up houses in the area as they ultimately look to increase the stadium's capacity to 60,000.
The house-purchase plan has proved controversial, with some residents claiming they have been neglected while there was uncertainty over the plans and that they have not been offered the market value for their homes.
Liverpool are unable to submit a planning application to extend the Main Stand and Anfield Road until all the necessary housing has been purchased, but Ayre believes the required properties will be bought up in the next few months.
"We are in an interesting period in terms of our aspirations around the stadium," he said.
"Our goal is to extend Anfield but we need certainty and that comes with the acquisition of properties.
"Real progress has been made in acquiring them. Once they have all been acquired we will go through the planning process.
"We would expect to be in a position to make that a certainty this summer. Once planning has been achieved then we can start construction."
A larger stadium would increase extra revenue for the club and allow them to compete financially with their rivals.
New Financial Fair Play rules, which state clubs must break even over a three-year period to take part in European competition, come into play next season, a factor Ayre feels will also work in their favour.
"We are very supportive of FFP for a number of reasons," he told the Liverpool Echo.
"One is we believe you should only spend what you earn. We want there to be as level a playing field as possible.
"We are in a very fortunate position in that we generate some of the biggest revenues in football despite having not been as successful on the pitch as we would have liked in recent years.
"We also have a huge fan base around the world. We've sold 100,000 tickets at the MCG in Australia this summer and there has been a similar demand for tickets for the other pre-season tour matches in Jakarta and Bangkok.
"That bodes well in an FFP environment. The real challenge for UEFA is to ensure the rules are applied correctly.
"It's only going to work effectively if there are sanctions for those who don't abide by them."