Neil Warnock thinks QPR manager Harry Redknapp will stay at the club
Neil Warnock thinks Queens Park Rangers manager Harry Redknapp will stay at the club next season.
Last Updated: 07/06/13 1:47pm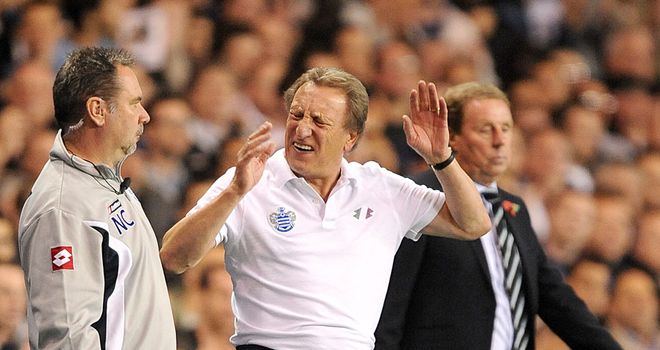 Warnock was replaced by Mark Hughes at Loftus Road before Redknapp later took over and says that it will not be easy next season in the Championship.
Speaking to Sky Sports News, Warnock said: "It's going to be difficult. It's not an easy league, the Championship. The three teams that came down last year - Wolves were relegated, Blackburn Rovers were almost relegated and Bolton had a late run and almost got into the play-offs.
"They all got the parachute money and had big squads but it wasn't easy.
"Harry knows what lies ahead and he's committed himself and he wants to take the club back up. Where does Harry go if he leaves QPR? There are not many options open to him at the moment."
According to some reports on Friday, Redknapp was said to be angry at QPR's failure to land Brighton defender Wayne Bridge and Warnock says that he understands his frustrations.
He added: "I can see both sides. Harry will be disappointed.
"Although Wayne Bridge is a free transfer he was on very big wages and it's not just a matter of signing him on a free. It's the whole cost behind the scenes.
"Everybody is aware that they've got a lot of players they want to get rid of and players on big money. A lot of people won't want them and they'll be a bit reluctant to let anybody come in until someone has gone."