Dave Whelan will not let anyone leave Wigan on the cheap
Dave Whelan insists anyone wanting Wigan's star men, including Roberto Martinez, will have to pay the going rate.
Last Updated: 08/06/13 5:06pm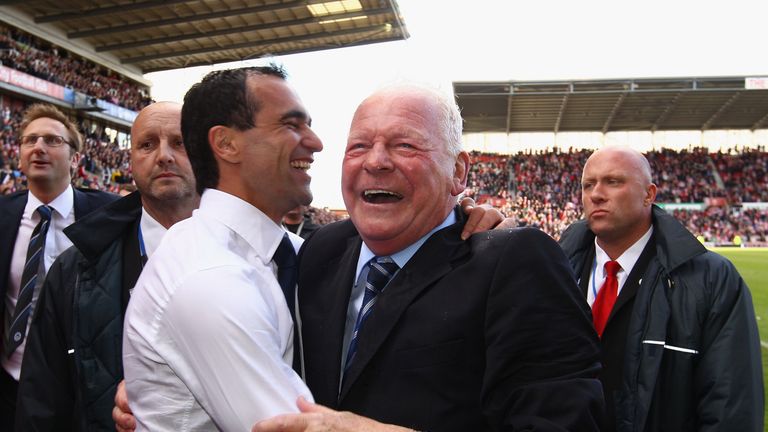 With the Latics having slipped out of the Premier League at the end of a campaign which also brought FA Cup success, departures are expected at the DW Stadium.
The likes of Arouna Kone and James McCarthy are already being linked with moves, with it suggested that former Wigan boss Martinez will attempt to take them with him to Everton.
Whelan, though, maintains that no player will be allowed to leave on the cheap and is prepared to hold out for the best possible price if sales must be sanctioned.
On the possibility of Martinez returning for familiar faces, Whelan told Sky Sports News HD: "He's now at Everton and we wish him good luck. It's like any other club, if he wants to come and buy a player, he's got to offer enough money to tempt Wigan to sell that player.
"Roberto will be my friend for the rest of my life and his life, I'm sure about that, but when you come to Wigan it's a business deal and you have got to pay the right money to get the right player."
Asked if any bids have been tabled on the back of Wigan's relegation, Whelan added: "No, there is not one bid been received. No club, I don't think, has received anything yet. Everybody goes on holiday. It will all start in a fortnight."
Backing
For now, Whelan says his focus is locked on the appointment of a new manager and ensuring that he has a competitive squad to work with in 2013/14.
He added: "I wouldn't like to say we'll sell anybody. I want to appoint a manager, and that manager I will put my trust in and give him my full backing. I know the managers expect that.
"I have got to support the manager. I will listen to what he wants and what he says and I will back him 100 per cent.
"We have to have a budget because this year we are going to play over 50 games. We are bound to get injuries - I think that's what brought us down out of the Premier last year, so many injuries. It's going to be tough but we're going to enjoy it, we're going to get stuck in."