Transfer news: Luis Suarez loves Liverpool but finds life in England very hard
Liverpool striker Luis Suarez has reiterated his love for the club, but stressed that he finds life in England hard.
By Graeme Bailey and Mark Kendall
Last Updated: 12/06/13 6:53am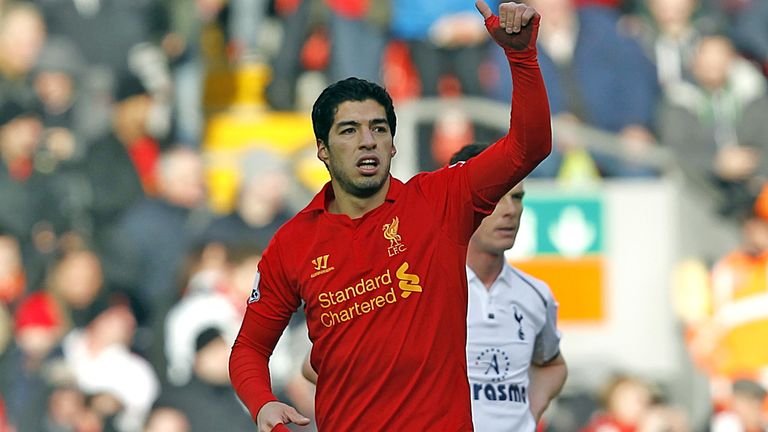 The Uruguay star is currently in South America preparing for the Confederations Cup, having already revealed he wants to leave Anfield this summer.
Liverpool insist Suarez, who is serving a 10-game ban from domestic football after biting Chelsea's Branislav Ivanovic, is not for sale but the player believes the treatment he receives in the press leaves him in a difficult position.
"Ever since I arrived I have felt bad, they have never judged me for my play but with the attitude that he dives, protests, makes gestures, racism... everything," Suarez told television show RR Gol.
"They have never spoken well of me. For that reason, when I was told I could win the Player of the Year award, I said: 'I will not get excited as I know that I will never win an important award in England'."
Suarez also feels the Football Association are against him, comparing his ban for racially abusing Patrice Evra to that of John Terry, who was suspended for half the amount of games after a similar incident with Anton Ferdinand.
"Without any proof they gave me an eight-match ban, but with Terry, where they had proof, lip-readers, they gave him four. I'm South American and I think that's the root of all of this," he continued.
"Liverpool is a club that I dreamt about playing for as a boy. I have been with great players there, they know me and I would love to continue for many more years at Liverpool. The stadium is spectacular, the fans are phenomenal: people with tattoos of me, things that I could never have imagined.
"After the [Evra] suspension people would come up to me, this is something that really touched me and they would say: "Luis forget everything and stay."
"But I can't forget as it was something that I had to suffer, that my family had to suffer and away from football I have a family to support and who are hurt by these things."
Asked again where he sees himself moving to, should he leave he said: "My agent said to remain calm rather than quiet, remain calm and when there is concrete interest you'll be the first to know."
Suarez also recounted a recent incident during a shopping trip, which affected him and his family.
"About a week ago I was walking in a shopping centre near Manchester and three or four guys asked me for a photo," he revealed.
"While we were posing for it my wife said to me "Luis, get out of the photo". She noticed they were making biting gestures. I was with my wife and my daughter. Things like that get on your nerves. My wife was on the brink of tears and the blokes ran off laughing. You get tired of stuff like that."
Real Madrid
Suarez has already declared that he would be open to a move to Real Madrid and that remains the case.
"I'm not sure if I see myself in the white (of Real Madrid), the only thing I know is that I have a contract," he said.
"Any player would like to play for a great team and Real Madrid certainly are that.
"Every player wants to reach the very top and Real Madrid are at the very top, but everything that has been said is just rumours, I have had nothing concrete.
"Obviously Real Madrid is a great team and every player dreams about them; Real Madrid is Real Madrid and it's as high as you can go as a player and they will always tempt you."
He admits that he and compatriot Edinson Cavani don't speak about their respective futures, with the Napoli striker also the subject of regular speculation.
"We have never really spoken about whether this club or that is interested. Obviously we talk about football; he asks me about the Premier League and I ask him about Italy," he said.
"But we have never talked or even even joked about one of us going to one club or another.
"I would prefer to have him as a team-mate than a rival because he is a great player. Hopefully he will go to one of the four you dream of because he has great power."