Sunderland boss Paolo Di Canio to fine overweight players
Sunderland boss Paolo Di Canio will fine any players who return for pre-season more than two kilograms overweight.
Last Updated: 16/06/13 11:48am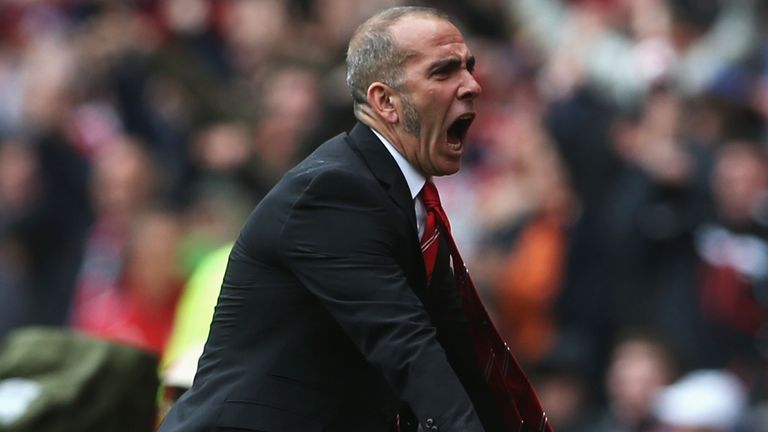 The Italian has told his squad they must report back to the club in the same shape they were when they left last month, and to expect a punishment if they are not.
Di Canio got in trouble with the Professional Footballers' Association last season after docking players' wages for various breaches of club discipline but shows no sign of altering his hard-line approach.
"Obviously the players have a programme to follow so that they are ready when pre-season begins," Di Canio told The Sun.
"When we start, we will start not that heavy, but there will still be a great deal to do and they have to be ready.
"It's normal in the Premier League, that players get punishment for breaking rules set down by the club.
"Everyone who comes back with more than two kilograms over what their weight should be, we're going to fine them.
"We test them before they go so everyone knows how they finished the season."
Di Canio will put his squad through their paces during a strict two-week boot camp in Italy in early July and believes any player carrying too much extra weight will find the rigorous nature of the training difficult to deal with.
"When they come back they're going to work three times a day, so it would be crazy to have put too much weight on in a short space of time," he said.
"How can it be possible to come back with seven kilograms extra?
"They have one month off and then one month to work at a high intensity level and if they do not do that right, then in September, they'll still be heavy.
"You can't work if you've put seven kilograms on your shoulders.
"When I played, I came back with a player who was 10 or 11 kilograms over and he didn't play all season because he had injury problems."