Arsenal midfielder Jack Wilshere excited by prospect of big-name signings
Jack Wilshere claims Arsenal players are excited by the prospect of big-name signings and need to aim high this season.
Last Updated: 17/07/13 1:23pm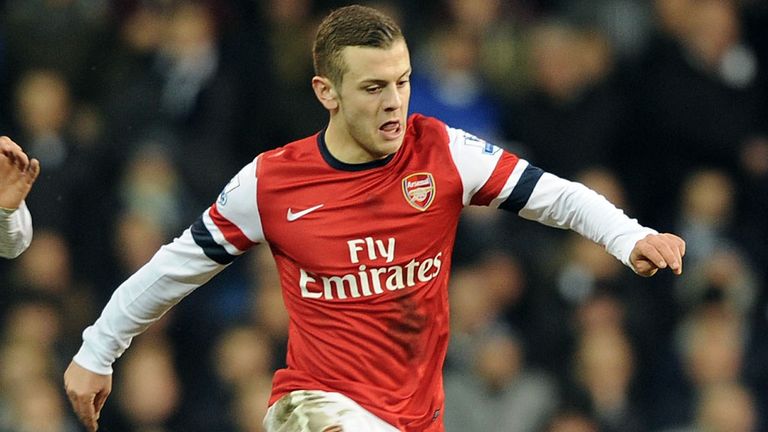 The Gunners look set to invest in a forward with Luis Suarez and Gonzalo Higuain linked with moves to the Emirates Stadium so far this summer.
Wilshere admits there is a buzz about the club and with the top three all changing their manager from last season, the midfielder senses an opportunity to use that to Arsenal's advantage.
"Everyone at the training ground has been talking about big-name signings," he told reporters.
"It would give us all such a massive lift. Not just the players but the staff and everybody connected to Arsenal.
"Everything has changed at the other top-four clubs. Alex Ferguson has gone, Chelsea and City have new managers so we have to set our targets high.
"We showed how good we can be during the run-in last season - we had our destiny put in front of us. We had to win those games to finish in the top four and we stood up to the challenge.
"Now the goal is to play with that kind of consistency all season. If we can, we can definitely win something."
He added: "Manchester United won the title last season yet it wasn't the best United team we've seen.
"They won it because they had a big squad. If you look at their games, they sometimes rotated the whole back four.
"We've got a strong team at Arsenal and if we can add a few more to our squad then it can be a good season for us.
"We've got the Champions League, the FA and Capital One cups and the Premier League to contend with - it never stops.
"It's impossible to play in every game. I've learned myself that if you try to it can only lead to injury."
Injury
The 21-year-old star is hoping those injuries are finally behind after a frustrating period in which his development has been hampered by a series of problems.
"It's really annoying when you cannot perform as well as you know you can," said Wilshere.
"Now there are no long-term injury issues for me. They took the screws out of my ankle, which were causing me a problem and, hopefully, there will be no further issues.
"I'm a bit behind the other lads in terms of fitness because I wasn't able to do much for six weeks after the operation.
"I will play some part during this tour of the Far East and, hopefully, I can have a good pre-season - which I haven't done for the last two summers.
"Steve Bould said three years ago you should never take pre-season training for granted. It's so important. It gives you a level of fitness for the whole season."
If Wilshere can maintain his fitness then this could be a huge season for the England international, culminating as it does with the World Cup in Brazil next summer.
"This is such a big year for me," he admitted. "The aim is to play the full season for Arsenal and then, hopefully, go to the World Cup in Brazil with England.
"It's still in our hands. We've got one really tough game in Ukraine and we'll need to get a result there. But if we win our games at Wembley then we should be OK for Brazil."