Owner Vincent Tan determined to make Cardiff debt free
Cardiff owner Vincent Tan hopes for agreement with creditors Langston Corporation as he attempts to reduce debts.
Last Updated: 18/07/13 7:24pm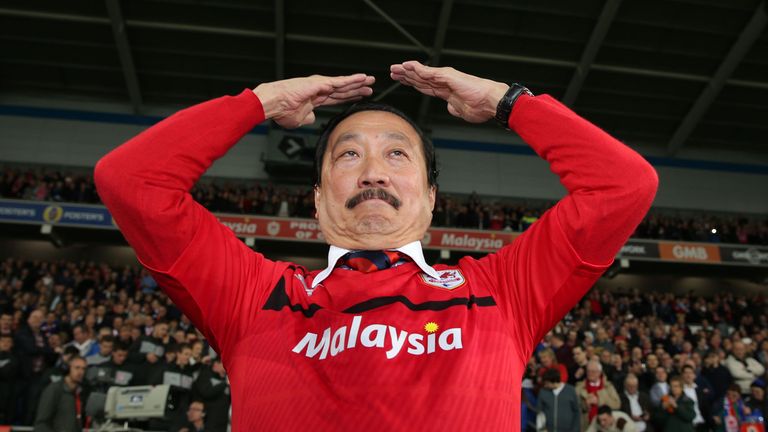 The debt to Swiss-based financial company Langston, of whom former Bluebirds chief Sam Hammam is a representative, was taken out in 2004 and is believed to be worth £24million.
Recent figures revealed that Cardiff are £83million in debt, but Tan is determined to reduce this amount and talks have begun with Hamman, who was invited to watch the presentation of the Championship trophy in April.
The Malaysian plans to convert the substantial amount he is owed by the club into equity if there are successful negotiations with the Langston Corporation.
"We are talking to Sam Hammam to try to resolve the Langston issue," said Tan.
"I have been talking to Sam. We have been friendly, talking. I like to regard Sam now as my friend and we will come around and resolve this.
"We are days away from an agreement and then we can convert all the loans to equity.
"That will make us much more secure and hopefully debt free, which is good.
"That's my goal - to make the club debt-free, so that the club won't be under any threat and after that we just have to manage it prudently, run it like a business."
Some sections of the Cardiff fans remain critical about the club's decision to change the colour of home shirts from blue to red.
Tan believes he still has the backing of the majority, but is willing to walk away if he is not given their continued support.
"I want to be here for as long as I am very welcome. If too many fans show we are not welcome, maybe you will have a new owner," he said.
"But right now my experience is we are very welcome.
"We need the fans to support us and not be negative or disruptive or unnecessarily criticise us too much.
"I'm disappointed that after 51 years of not being in the top-flight that there are still some fans who don't think we have done a good job.
"I may say maybe they are not grateful so that part is disappointing, but like anything in life in democracy you won't have 100 per cent support."