West Ham co-chairman David Gold excited by Olympic Stadium move
David Gold believes West Ham's move to the Olympic Stadium could help transform them into one of London's top clubs.
Last Updated: 26/07/13 3:03pm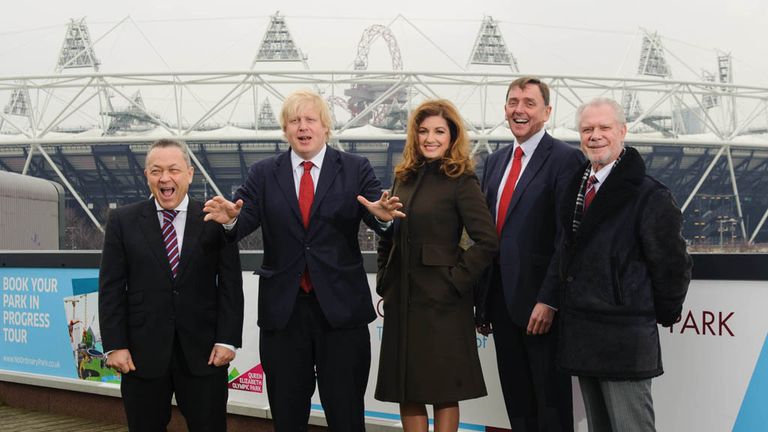 Earlier this year, West Ham were announced as anchor tenants for the stadium after agreeing terms on a 99-year lease with the London Legacy Development Corporation (LLDC).
The Hammers are planning to move to the stadium from Upton Park in time for the beginning of the 2016/2017 season, a prospect that excites Gold.
"It's an opportunity. It's an opportunity that comes once in a lifetime," said Gold.
"We have always been in the shadow of Arsenal, Chelsea and Tottenham.
"There's no denying it, they have always been bigger clubs, they have had bigger stadiums and that's been the key.
"Our stadium all the way through the generations has never matched those three clubs.
"Therein lies the difficulty because we are probably not that far behind in terms of fan bases.
"You could argue Arsenal have reached their potential with their new stadium and everything. You could argue that with Chelsea with the huge money created by their owner.
"With West Ham we are now on our move, our surge."
Gold feels this is an exciting period in West Ham's history.
Under manager Sam Allardyce, West Ham finished 10th in their first season back in the Premier League after winning promotion from the Championship.
The Hammers have signalled their intent to continue that progress by signing Andy Carroll on a permanent deal from Liverpool for a club-record fee of £15m.
Gold believes the timing of the stadium move is ideal after the club recorded their highest average league attendance for home matches in their 118-year history last season.
"I hope the fans are as excited as me," added Gold.
"It gives us an opportunity to take our football club kicking and screaming into a new era.
"A new era - and into a stadium that will be fit for purpose.
"It will have a facility for 54,000 which will give us the opportunity to have more affordable seating and more affordable football."
Gold was speaking after attending an event for the football inclusion campaign Kick It Out ahead of their 'Season of Action' which begins next week.
Kick It Out are organising a series of events to mark 20 years of campaigning to make football safer and less intimidating for under-represented communities.