Transfer news: Liverpool boss Brendan Rodgers stands firm over Luis Suarez
Brendan Rodgers says there can be "no solution" to Liverpool's stand-off with Luis Suarez while he refuses to apologise.
Last Updated: 12/08/13 5:36pm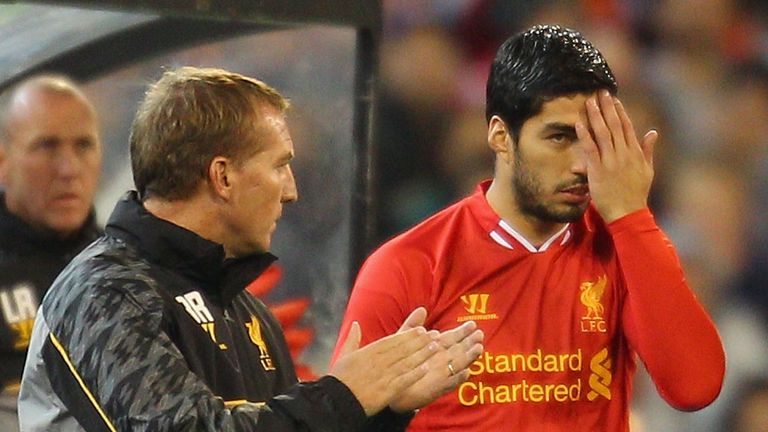 Rodgers is demanding a show of contrition from the Uruguayan, who trained in Japan on Monday ahead of Wednesday's international friendly, over what he sees as "a total disrespect" for the club's values.
Suarez is attempting to force through a move to Arsenal and claims Rodgers has reneged on a promise to sell him for £40m-plus if Liverpool failed to make this season's UEFA Champions League.
Rodgers denies making any such promise, and owner John W Henry has given an "unequivocal" assurance he will not sell to Arsenal.
That leaves an unrepentant Suarez in limbo, and despite his wish for an amicable resolution Rodgers is not about to back down either.
He told the club website: "It is something that we have to do everything we can to fix.
"There has been a lot said and a lot reported, and we have made a stance, as a club and as a manager, of the commitment and the standards required.
"If you don't have that commitment, and those standards, then you won't play. It's as simple as that.
"If we have got to sit and wait, then so be it. But this is a club that has got great values, and we hope that the situation can be resolved amicably, and I am sure it will be.
"There's no problem between me and him, it is quite calm. But obviously I have got to respect the club and the team.
"It doesn't matter who you are, if they're not pulling their weight then they are letting down the club, the city and everyone who has stood by them.
"So until I get that assurance that we are going to get nothing but 100% commitment, then there will be no solution."