Premier League: Manager Mark Hughes has top-half target for Stoke this season
Mark Hughes is sure he can turn Stoke into a top-10 side, despite a frustrating summer in the transfer market.
Last Updated: 30/08/13 4:56pm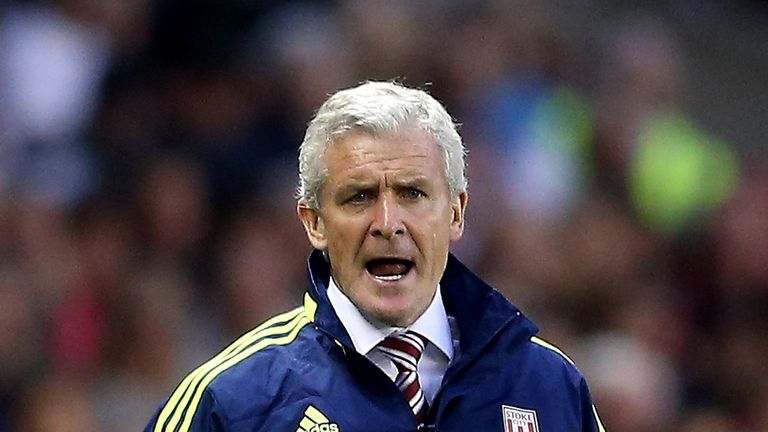 Predecessor Tony Pulis was sacked at the end of last season after taking Stoke as far as the club's hierarchy felt he could, the success of five successive terms in the top flight tempered by a failure to breach the top half.
Hughes has been frustrated in his bid to significantly strengthen for the new campaign, luring only Erik Pieters and Marc Muniesa, as well as Oussama Assaidi on loan from Liverpool, but is confident of progress on the field.
"I've a good group of players, but we do need a little more help in terms of
that group and the type of players I want to bring to the club if I can," Hughes said.
"If that's not possible then we'll still have a group that has the capability of doing well in the Premier League again.
"It's going to take some time - it may take more time, may take less than I
think - but the intention is to be a successful top-10 Premier League side on a
regular basis.
"That hasn't been the case in the past, and that's the challenge for every one
of us.
"Ideally, to be a recognised top-10 Premier League team, we have to embrace a different way of playing, and if we do that then we'll keep on progressing."
On his search for further recruits before Monday's deadline, he added: "We would have liked to have done more business to this point.
"But it's been more difficult than most windows. We've pursued a number of targets, got so far with them - and in some cases we were very close - but then all of a sudden it just fell away.
"They've not been for the same reasons, but very different reasons, with regard to almost every one of them.
"That's been frustrating because you put in a huge amount of work, try and get everything in a line, you think you've done it, and then all of a sudden a piece (of the jigsaw) doesn't correctly fit, and it can't be done.
"That's what we've experienced this window, although we're still hopeful."