Transfer deadline day: Gareth Bale addresses Real Madrid fans after sealing move
Gareth Bale has been introduced to thousands of Real Madrid fans at the Bernabeu after sealing his world-record move.
Last Updated: 03/09/13 11:36am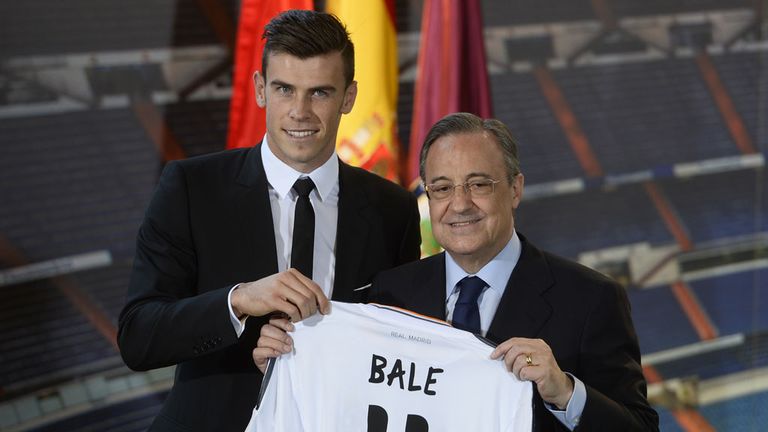 The Wales international signed a six-year contract at the stadium hours after a successful medical examination in the Spanish capital.
And Bale, whose £85.3m transfer from Tottenham makes him the world's most expensive player, addressed fans in both English and Spanish after an introduction from Real president Florentino Perez.
He said: "I just want to say that it's absolutely amazing to be here - a dream come true - and I hope I can help the team bring success to the club. Hopefully this year we can win the 10th European title."
Bale then thanked supporters, in Spanish, for their warm welcome and left the stage to a huge ovation before reappearing on the pitch in full kit for the obligatory ball-juggling.
Real then staged a press conference, at which Bale appeared unburdened by his price tag and called new team-mate Cristiano Ronaldo "the best player in the world".
He said: "The transfer (fee) had nothing to do with me - that's between Real Madrid and Tottenham. I wanted to come here whether it was for a penny or whatever it cost."
On Ronaldo he said: "Cristiano, for me, is the best player in the world. He's a massive factor in why I wanted to come here.
"It comes no better than him and it'll be an honour to play with him and we'll have a great team and hopefully win a lot of things together.
"I don't think I need to help him (Ronaldo) because he's already proved he's the best in the world."
When asked about his emotions as he went out onto the Bernabeu pitch for the first time as a Madrid player, Bale said at his press conference: "It's a very surreal situation - even when I was doing my keepy-ups I was very nervous. To be in front of the amazing fans who made me feel very welcome was a privilege and I can't wait to get started."
Asked about the transfer saga, Bale insisted he never feared his dream move might break down at the last minute.
"No, it's an absolute pleasure to be here. Florentino (Perez, Madrid's president) and Jose (Angel Sanchez, the club's director general) have made a lot of effort to bring me here and I put my trust in them," he said.
"It was all done the right way, they approached the club, did everything as normal. I've had a lot of chats with Florentino and he gave me a lot of confidence in bringing me here."
On Spurs chairman Daniel Levy, Bale added: "It's obviously been a difficult time, everyone knows he's a hard businessman but he obviously wanted to do the business for Tottenham and he's been good for the club and has helped them grow the squad."
Bale had earlier released a statement of thanks for Tottenham's role in his development.
It read: "I have had six very happy years at Tottenham but it's the right time to say goodbye. We've had some special times together over the years and I've loved every minute of it.
"I would like to thank everyone at the club; the chairman, board, staff, coaches and players and, most of all, the fantastic fans, who I hope will understand this amazing career opportunity.
"I am not sure there is ever a good time to leave a club where I felt settled and was playing the best football of my career to date. I know many players talk of their desire to join the club of their boyhood dreams but, I can honestly say, this is my dream come true.
"I am well aware that I would not be at the level I am today were it not for, firstly Southampton, and then Spurs, standing by me during some of the tougher times and affording me the environment and support they have.
"Tottenham will always be in my heart and I'm sure that this season will be a successful one for them. I am now looking forward to the next exciting chapter in my life, playing football for Real Madrid."