Premier League: Everton boss Roberto Martinez says John Stones can be among the best
Everton boss Roberto Martinez believes that young defender John Stones is among the top prospects in the country.
Last Updated: 10/09/13 5:29pm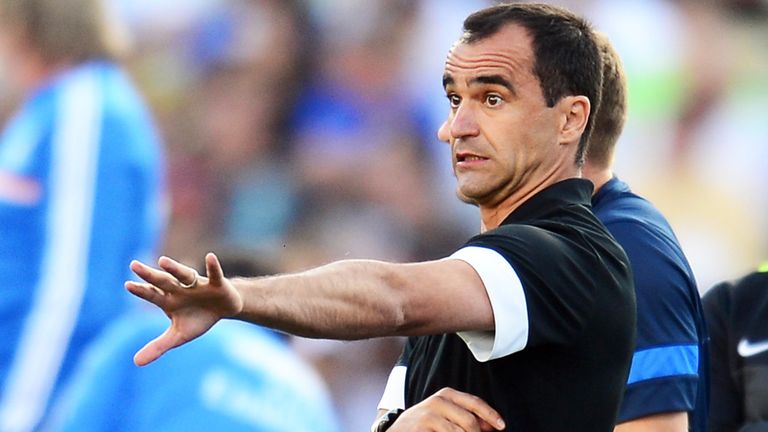 The 19-year-old swapped Barnsley for Goodison Park back in January and he eventually made his debut for the Toffees this season in their 2-1 Capital One Cup win over Stevenage.
Stones, an England Under-21 international, caught Martinez's eye having burst onto the scene at Barnsley last season, and the new Everton boss says he rates the defender very highly.
"In my eyes, he's the most promising young English centre-half that we have in the country," he told Everton's official website.
"I always said that he would play for England at senior level. He will have a terrific career; it's just a matter of shaping up, taking things in, being able to make mistakes and correct them.
"I expect big things from him but we need to allow him to develop and enjoy his football.
"I followed John really closely when he was at Barnsley and I always thought he had incredible potential for someone that can play in different positions and adapt to systems. At such a young age, he has such a mature personality.
"He would have been an asset for any football club - Everton at that time were very fortunate to get John because I see him as an outstanding prospect for the future.
"It was frustrating to miss out on him in January, because I always thought he was ready to play in the top flight. As a player you need to make a decision and we had to accept that. So I was delighted when I got here to have him in the squad finally."
Martinez has already signalled his intention to give opportunities to some of the squad's younger members, such as Ross Barkley, but he says he never puts too much pressure on the more inexperienced players.
"In any performance from a youngster I never focus on the mistakes. I value their reaction to the mistakes and their next pass, or next decision," said Martinez.
"John is very strong-minded in that respect and I've been very impressed.
"He needs games and minutes on the pitch to make sure he fulfils his potential but I would have no problems allowing him to play in the first-team in a league game.
"I think he is ready. He has been working really well in pre-season. He's one of that young group which is pushing that gets me really excited. We need to allow them to make mistakes and encourage them.
"I thought he was influential in us getting through to the next round of the Capital One Cup. His attitude, mentality and personality will make him a very important player for Everton in the future."