Manchester United boss David Moyes defends use of Shinji Kagawa in Premier League
David Moyes says the reason why some players have only had limited roles so far is their international commitments.
Last Updated: 13/09/13 9:43pm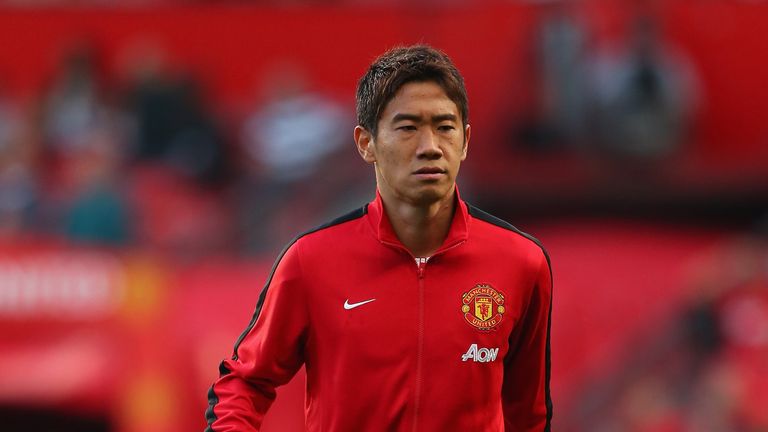 Japanese midfielder Shinji Kagawa has been restricted to a seven-minute substitute appearance for Manchester United and admitted earlier this week that he was frustrated at being left on the sidelines, saying: "Please ask David Moyes why I'm not in the side."
The United boss insists there is a simple explanation, which stems from Kagawa's late return to pre-season duties following the Confederations Cup and includes two trips back to the Far East since on international duty.
"There are quite a lot of players who have not featured yet," he said.
"But if you look at it most of them were late back from international duty after the Confederations Cup, then they were away for a friendly international and a long-haul flight, then they were away again for another international.
"If you look at the reasons why people haven't played, it is more to do with them not being available for that to happen."
Meanwhile, Moyes has insisted his deadline-day pursuit of Leighton Baines and Fabio Coentrao was an attempt to help Patrice Evra rather than push him out of the Manchester United exit door.
"I just felt we needed to make sure we had good cover for Patrice," explained Moyes.
"He has played brilliantly well but I hope we are going to have a season that is going to include 60 or 70 games.
"Patrice played a big majority of the games last season but I just want to make sure if he broke down I had the right people around to help me."
One of the more forceful characters in the United dressing room, it is hard to imagine Evra, veteran of five triumphant Premier League title campaigns and deputy to Nemanja Vidic as captain, staying silent about the matter.
However, Moyes says he has felt no need to speak with the 32-year-old about his status.
"I have not because he is such a good professional," said Moyes. "He knew exactly what we were doing."
"If you play for Manchester United there is always someone out there getting ready to take your jersey.
"It is up to you to fight and make sure you keep it."