Sunderland boss Paolo Di Canio rues referee 'mistake' after loss to Arsenal
Paolo Di Canio felt Martin Atkinson got a crucial decision wrong in Sunderland's 3-1 defeat at home by Arsenal.
Last Updated: 15/09/13 9:10am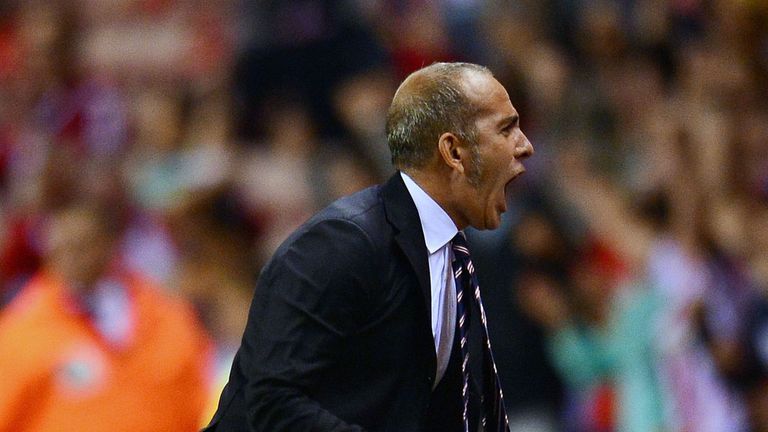 The Black Cats were trailing 2-1 when Jozy Altidore held off Bacary Sagna to put the ball in the net and seemingly equalise, but Atkinson had already blown his whistle to give a free-kick for a foul by the Arsenal defender outside the area.
Di Canio was later sent to the stands just before the end of the match after remonstrating with Atkinson, and he had not changed his mind after the final whistle that the referee made a costly error.
"I think it is clear that it was a mistake," the Italian told Sky Sports.
"It can happen to anyone. I make mistakes, players make mistakes. He made the wrong decision."
Di Canio says he was sent to the stands because he had been annoyed by the length of time it took Olivier Giroud to leave the pitch as he was replaced by Chuba Akpom.
He explained: "I never was calmer than today, even with this wrong decision. I said only that the opponents' player took two minutes to walk from the middle of the field, 40 yards.
"We lost time and I invited the referee, I tried to persuade him to push him quicker out because there was four minutes of added time and we had a free-kick at the edge of the box. You never know what is going to happen.
"That was my protest. I said, 'You have to tell them to go out quicker'. The problem was that he told me, 'If you keep going with your mouth, I will send you off, I will send you up to the stand'.
"My mistake was that I invited him. I said, 'If you want to complete a perfect job today, you have to only send me off'. He said, 'Go off'. They were the words."
While he was unhappy with Atkinson and disappointed with the loss which left Sunderland bottom of the table, Di Canio felt there were a lot of positives to take.
He said: "Arsenal were too good in the first half and created many chances but in the second half I saw the team that I want to see.
"With energy, quality and desire we were on top.
"I was very happy with that, but I am not happy with the result."
Di Canio added: "We are a work in progress. With Altidore and Fletcher it was their first time together.
"Obviously we need to improve a lot and gel together quickly and play more like we did in the second half."