Alan Pardew not getting carried away with Newcastle's positive start
Newcastle boss Alan Pardew has urged his players not to get carried away with their encouraging start to the season.
Last Updated: 21/09/13 2:45pm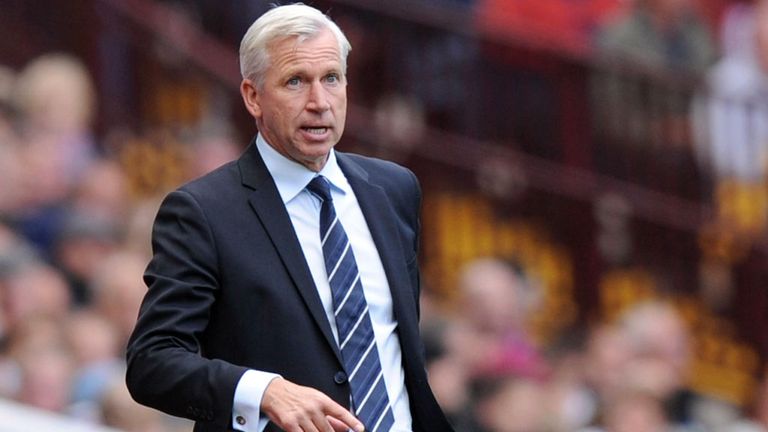 The Magpies have bounced back impressively from their opening-day 4-0 thrashing by Manchester City, recording successive wins over Fulham and Aston Villa which have silenced many doubters.
Pardew and the club's hierarchy came under fire for their lack of activity during the transfer window, but their winning form has transformed them from relegation candidates into top-six contenders.
But, ahead of Saturday's visit of Hull, Pardew said: "For us Premier League managers, it's about trying to keep everybody's feet firmly planted on the ground in reality, because some of the stuff that's said is just complete fantasy.
"I never actually thought we were in as bad a situation as some people were suggesting in the media and even our own fans. But as I have said all along, it's about results, it's results that speak more than anything you can say.
"We have got two wins and we have got to back them up now with a home performance."
Pardew has again hit out at the "over-reaction" to Newcastle's failure to strengthen their squad over the summer, and he insisted he has adequate resources to choose from.
He said: "I thought there was an over-reaction to that - but there always is with Newcastle. Whether it's good or bad, we get an over-reaction, and that's the way the media is with the Premier League as well.
"You do get setbacks and you just have to keep a level head. We have kept a level head all the way through. We think we have got a good side, but there are still a lot of games to go and we haven't proved anything yet.
"I just definitely feel that my side has more power to it, more offensive options. That was something we were really searching for last year, particularly in the second half of last season.
"This season, I would like to think we are going to have a much more Newcastle-looking team attacking-wise."