Patrick Vieira feels English football has issues to address at youth level
Manchester City's elite development squad coach Patrick Vieira feels English football has failed to move with the times.
Last Updated: 26/09/13 10:36am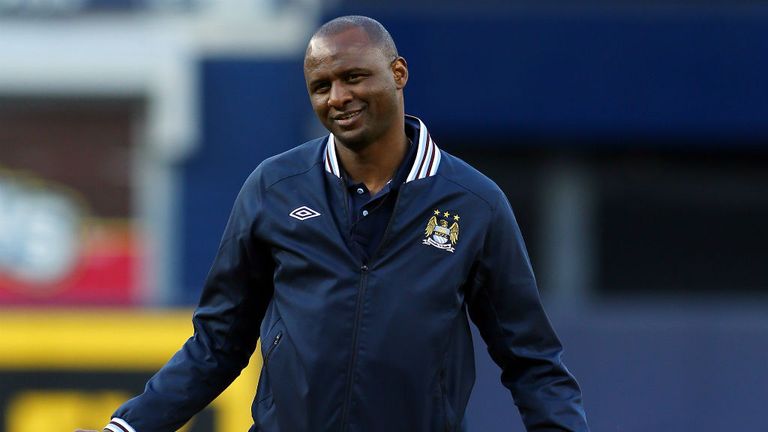 The former France international does not buy into the belief that an influx of foreign talent into the Premier League is solely responsible for England's inability to bring through talented youngsters.
He feels that argument is too simplistic and that more work needs to be done on coaching structures if the stars of tomorrow are to be given the right platform on which to showcase their ability and develop their game.
Vieira said: "I believe the game has changed and if the game has changed that means we need to change our methods.
"I believe that the methods in English haven't changed as much as the game has changed.
"I heard some comments about there being too many foreigners in the country, that that is why there is no chance for the English players to have a chance to play in the first team.
"But for me that is the comment everybody wants to hear.
"The truth is (we need to ask) how can we help the young players to develop? How do we give them the best tools for them to improve?
"The problem is deeper than just saying there are too many foreigners. I think this is a deeper problem."
Belief
Vieira hopes he can play a small part in changing the face of youth development, with his duties at City focused on preparing players of promise for the step up into the senior fold.
He added: "At this age and this level you win and lose, but both ways there is so much to take from it.
"What is important for the boys is for them to believe in themselves and express themselves.
"If you make a mistake, that is a way of developing. When you lose a game it is because you did something wrong, but (it is about) how can you learn from that so you don't repeat it.
"We have to believe in the philosophy we want to put in place.
"We have to give them time to develop and learn and make mistakes. It is more important than to develop them just to win games.
"They are good players and it is about giving them the confidence to express themselves.
"I want them to be brave, to play. The time for them to make a mistake is now, not when they are in the first team."