Sunderland interim boss Kevin Ball is confident his players will fight back
Kevin Ball insists it is down to the Sunderland players to prove they have the fight to overturn their current plight.
Last Updated: 29/09/13 3:47pm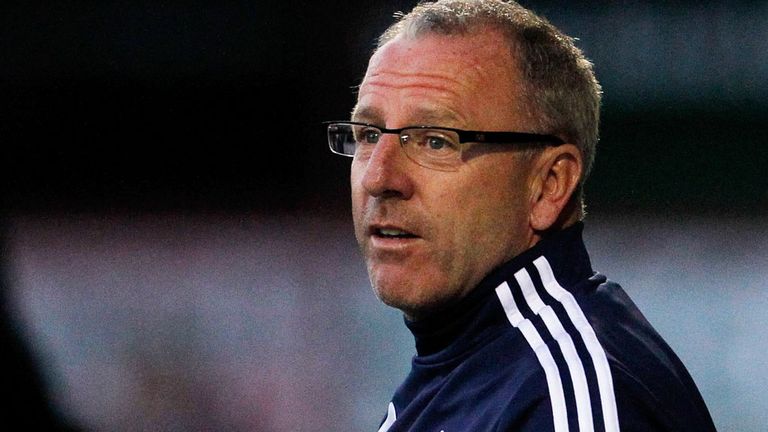 The 48-year-old former Black Cats midfielder was asked to step into the breach for the second time at the weekend following Paolo Di Canio's sacking.
Having guided the side he inherited from the Italian to a 2-0 Capital One Cup third-round victory over Peterborough, the interim head coach is now preparing the players for their clash with Liverpool on Sunday.
Ball, who has put himself forward as a possible replacement for Di Canio, is under no illusions as to the task but thinks the kind of passion which fuelled his own playing days exists within the current squad despite the events of recent weeks.
He said: "You would like to think it is always there for them. You have got to understand as a coach, we have a role to play, but that's got to come from them, the responsibility has got to lie with them.
"We can help them, we can facilitate stuff, but that's got to come from them.
"In the time we have had them, we have watched it closely, but we have tried to make it good footballing sessions.
"There has always got to be a time for a laugh and a joke, but they have also got to understand it's work."
Ball has stepped seamlessly from his role as senior professional development coach into the hot-seat vacated by Di Canio, but admits he has no clear idea how long he may remain in charge.
He revealed after Tuesday night's game that he hoped to discuss his situation with club officials this week, but such has been the level of activity both at the training ground and in the boardroom, that did not happen.
Ball said: "I really haven't had a chance. There are obviously people you speak to in passing, you might have a five-minute meeting.
"But at this moment in time, I wouldn't have honestly said to you that I am any further forward than what I spoke to you about the other night."
Owner Ellis Short, having held consultations with director of football Roberto De Fanti, is continuing to consider his options with Gus Poyet concertedly trumpeting his own cause, although there is understood to be an element at the Stadium of Light pushing for the appointment of a British coach, or at least a man with experience of managing in the Premier League.
The club have kept their own counsel since the official announcement of Di Canio's departure, although full-back Ondrej Celustka admitted to Czech press agency CTK that he had been disappointed at the decision.
He said: "In my opinion, the decision was a bit hasty because he was building the team and in the summer, 14 new players - including me - arrived. It needs some time to settle down.
"But on the other hand, to win just one point from five (games) is simply not good."
Pathway
In the meantime, Ball will look forward to a reunion with Liverpool midfielder Jordan Henderson, a man he nursed through the Academy ranks on Wearside before he broke into the first team and ultimately won his £16million move to Anfield.
He said: "He made sure the pathway was open. It wasn't like the pathway wasn't there, but he went along it and said, 'I'm going this way'.
"If one day it got a bit hard, he fought his way through it. In the time he was at the club, he was brilliant, and not just in his football.
"If it wasn't going well for him, he would find a way of making it right. He always challenged himself day in, day out, week in, week out.
"If it wasn't right, 'I'll make it right'. It wasn't a case of, 'Oh well, I'll just accept it', so that's probably why you will subsequently see Jordan Henderson will get better and better as his career goes on."
Meanwhile, Sunderland have been boosted by the news that striker Steven Fletcher's shoulder injury is not as serious as was first feared.
Ball said: "The news is better than we expected. Hopefully it will be four to six weeks, which is great news."