Angers midfielder Alharbi el-Jadeyaoui delighted with Arsenal trial
Moroccan ace Alharbi el-Jadeyaoui admitted he was delighted to be offered a two-day trial with Arsenal over the summer.
Last Updated: 01/10/13 4:59pm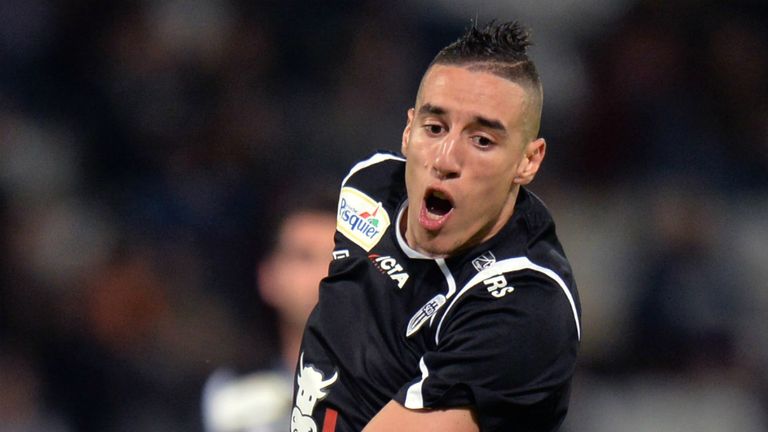 El-Jadeyaoui, currently plying his trade in Ligue 2 with Angers, made the trip to London to join the Premier League side as they made preparations for the new campaign.
The attacker has told the French media that he was invited by Arsenal manager Arsene Wenger and explained how he jumped at the opportunity to test himself with a top flight club.
"The club general manager came to meet me at the end of a training-session," he is quoted as telling France Football. "'Arsenal called. They want you at training-sessions next week. Do you want to go?'
"I didn't ask any question and replied yes immediately. I knew there were scouts last term in our stands for the big matches, Chievo Verona, Fiorentina and English clubs."
With several Frenchmen in the Arsenal dressing room, El-Jadeyaoui soon found his Ligue experience stood him in good stead with the rest of the squad.
Amazing
"The first day in the changing-room Olivier Giroud came and said hello to everyone," he added. "In front of me he told: 'Larbi, what are you doing here?' I knew him and Laurent Koscielny. I played against them a few years ago. It was immediately easier with the foreign players, they saw I knew those guys.
"Arsene Wenger never intervenes during training sessions. He comes, watches everything and leaves. He has about 10 assistants. But you can feel he is really here. He watches out for everything.
"There is huge respect from the players who call him boss. In the changing-room, he told me: 'Are you okay? Not too hard?' I was exhausted, I just wanted to go back home, eat and sleep."
During his short spell in London, El-Jadeyaoui formed strong relationships with the Arsenal camp and believes the lessons he learnt were invaluable.
"Bacary Sagna is such a great guy," he said. "He never stopped talking to me, reassuring me and explaining things. After training-sessions, he invited me to eat with him. Now he even sends me text messages.
"I learnt so much in two days. I feel more demanding with my-self now. It was amazing to have experienced that. I'll never forget."